India's leading facilities service provider journey with WeP GST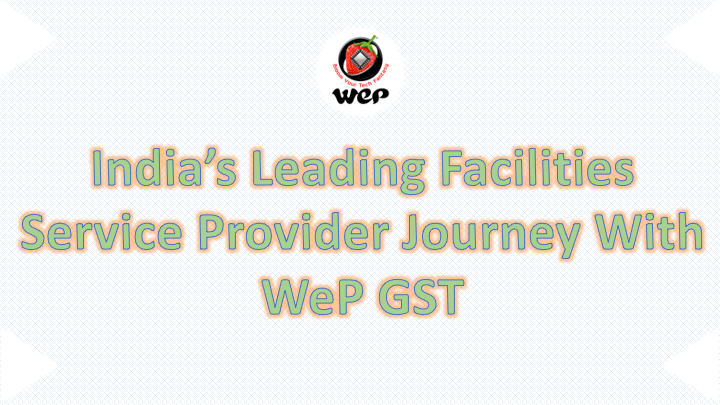 Background
Leading international facilities management company founded in the United Kingdom and trusted by over 20,000 customers worldwide. This is one of India's top integrated facilities management service providers, providing a broad variety of solutions to over 300+ customers every day. With 13 locations and over 15000+ people across the country, delivers workplace solutions to over 1000+ sites in India.
INVOICE VOLUMES A KEY DRIVER FOR E-INVOICING
India's top integrated facilities management service provider.

They generates 10000+ invoices per year. With this volume of invoices it was difficult for them to know where there money is flowing and hence WeP e-Invoicing was clearly able to bring big benefits.

Brief Into e-Invoicing
There was the dire need to course correct the GST law and the government seized this opportunity to introduce e-invoicing in a phased manner. Simply put, e-invoicing ensures that a trade invoice is identified by a unique identification number (termed as invoice reference number) which is generated by the Invoice Registration portal of the GSTN. This invoice registration number is required to be encrypted in a Quick Response code (QR) on the invoice.

The QR code contains, apart from the IRN, the GST registration numbers of the supplier and recipient, date of invoice generation, the invoice number and the invoice value. This unique matrix bar code is machine readable and can easily verify the invoice by even a cell phone. It permits interoperability as e-invoices are generated in a standardised format and thus can be read by different software.
How transitioning to e-Invoice ensures GST compliance for this International Facilities Management Group India?
Having an e-invoice that is validated by the GSTN ensures that the GSTN system captures at the incipient invoice generation stage, all supply transactions on which input credit can be availed of by a buyer of goods and services. In fact, the GSTN goes further and auto-populates the sale and purchase returns of the GST registered seller and buyer.

Thus, on a real-time basis, the GSTN system captures all the B2B transactions on which GST is applicable – any B2B invoice that does not have an IRN cannot be used for availing ITC and thus drastically truncates fraudulent practices for wrongful availment of ITC by businesses.

NEED FOR QUICK SWITCH TO E-INVOICING PROVIDER – WeP e-Invoice
They had to switch quickly to e-Invoicing as it is mandatory from 1st October 2020 to all businesses whose aggregate turnover has exceeded the Rs.500 crore limit in any of the previous financial years from 2017-18 to 2019-20.

From 1st January 2021, e-invoicing became applicable to businesses exceeding the Rs.100 crore turnover limit in any of the financial years between 2017-18 to 2019-20. Likewise, it was extended to businesses with a total turnover of more than Rs.50 crore from 1st April 2021.

How does transitioning into e-invoicing benefit our Customer?
Our Customers are enjoying the following benefits by using WeP e-invoice Software:-

In order to limit the likelihood of data mismatches, implementing e-Invoice closes a critical hole in the GST data reconciliation process.
It would be possible to automate the tax return filing process by using backward integration and auto-population of invoice details, in particular for the generation of part-A e-way bills.
WeP e-invoicing minimized Data entry errors because e-invoices made on our SaaS-based software can be read by another easily.
Because the information the tax authorities need is readily available at the transaction level, there is a lower risk of an audit or a survey by the tax authorities.
e-Invoice makes it possible to keep track of Company supplier-prepared invoices in real-time hassle-free.
Input tax credits that are really available can be obtained more quickly and hence benefitting the company.
WeP GST Dashboard allows for the efficient management of 14 GSTIN's with a single login and user/location-based access controls.
Conclusion
Having been in association with WEP for more than a year with this International Facilities Management Company & has found the relationship to be amazing. Some of the key binding factors are minimal turnaround/response time, exceptional services and support right from onboarding to the present, including handholding during the transition process, and most significantly, an organizational dedication to providing the best possible services agreed upon deliverables to their clients at a very inexpensive price.

Recent Post