WeP Workflow Automation – transition from people-driven to process-driven Enterprise
With WeP Workflow, you can automate your processes to minimize the chaos and maximize your productivity in your organization.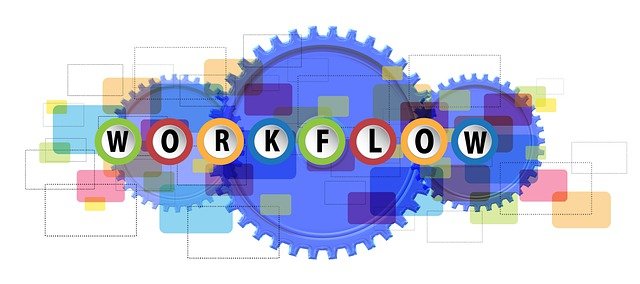 WeP Workflow – transition from people-driven to process-driven enterprise
Design your workflow with an extremely intuitive designer
Workflow automation can be a very time-consuming and daunting task. However, the WeP Workflow Automation solution is known to be efficient, especially due to its intuitive workflow designer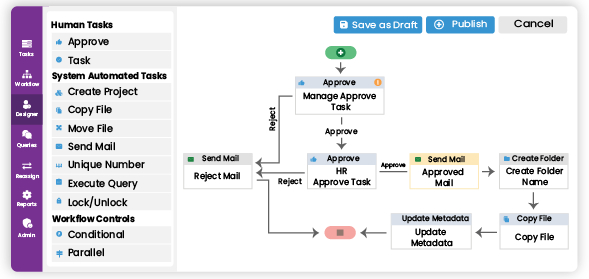 Cloud-based (SaaS) solution
Zero to minimum coding needed
Well defined human and system tasks
Drag and drop forms creator to workflow
A fluid workflow that can be amended efficiently
Handle complex and parallel workflows seamlessly
Seamless integration with third-party application and legacy systems through RESTful API's
Powered by the centralized WeP document repository and Low code platform
Scalable solution w.r.t users and data
Real-time analytics to track and manage workflow tasks
Get real-time reports and leadership dashboards of various workflow tasks using filters and searches:
Get a real-time status report
Dashboards for the leadership team
Perform action on-the-go
Reassigning the task with a click
Trigger automated e-mails and reminders for pending tasks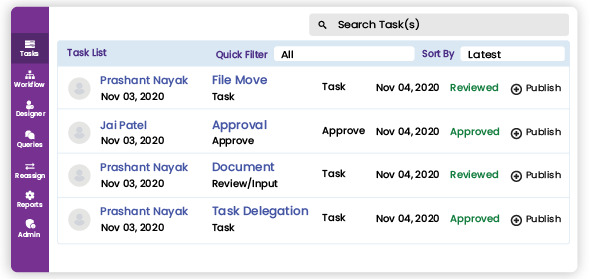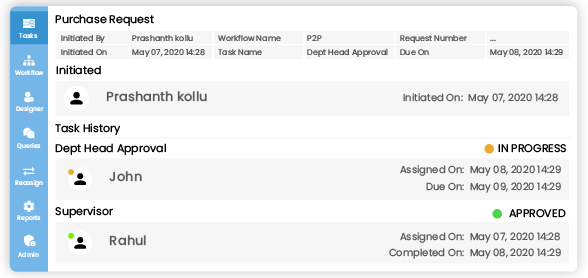 Keep up with compliance through and through
WeP Workflow Automation helps you stay compliant throughout the workflow of each task with the following information:
Show names and timestamp details of each task
Track history of the task
Provision to file logs through comments
GUI buttons to approve, reject, reassign tasks
Autosave task-related artifacts that can be accessed anytime
Save the task as a draft
FAQ
Q1. what is workflow automation?
Ans. Workflow automation is designing business processes based on certain pre-defined rule-set & deployed to automatically trigger the tasks between users, external applications & storing & tracking all the stages.
Q2. How will workflow automation help?
Ans. One of the major advantages of workflow automation is the 0% chance of data loss. Automation of complete business processes will enable centralized & easy accessibility of data at any time & place. The sole requirement would be a stable Internet connection. This would in turn provide end-to-end information of the processes with audit trails In the process, it will also promote ease of use for the user.
Know More
We deliver great experiences through our phygital approach. Grow faster, start today.