Leading e-commerce company in India successfully transformed data compliance and security of its employee records with the WeP Employee Records Management system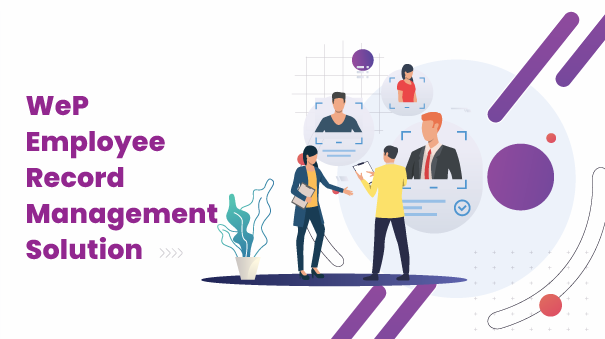 Overview:
WeP Solutions Limited helped one of India's leading e-commerce companies in their digital transformation process by providing them with a secured Employee Records Management Solution, which resulted in increased productivity, data security, and compliance.
1. How was the e-commerce company handling employee records before opting for the WeP employee records management system?
The e-commerce company managed their employee records through a third-party Document Management Solution and supplementarily had a physical copy of the documents, as per India's regulation.
2. What challenges were they facing?
Despite having a third-party Document Management System within the organization, the company faced various challenges.
Their existing solutions could not automate the document storage process and notification of missing records. It lacked flexibility and customisation of folders and sub-folders, which affected the digital adoption within the organization.

The search was progressively becoming sluggish as more data was pushed into the system.

The system did not support Metadata and Content-Based search

The existing solution's user interface was so complicated that the company faced difficulty navigating through multiple menus.
The above challenges with the existing solution impacted the company's experience and influenced their decision to look out for another efficient solution.
3. What were their goals?
To facilitate smoother & secure employee records management, the company aimed at the following –
· Efficient collection and tracking of employee records during the recruitment process
· Workflow automation for document storage and notifications on missing employee records
· Effortless retrieval of employee documents through Metadata and Content-Based search
· Avoiding possible breach of confidential data
4. How did WeP employee records management help?
The e-commerce firm's most significant challenge of collecting, tracking & handling employee documents during the recruitment process was taking a considerable time of 2-3 hours per day. This issue was solved with workflow automation and the employee records dashboard. The dashboard indicated the document's name and count, thus helping the HR comply with the employee records.
Besides, if an employee no longer works for the organization, the employee record documents would be needed to be moved to an inactive/archive folder automatically. This was made possible with WeP Employee Records Management workflow automation.
Even after the former employee's records are moved to an inactive folder, as per Indian regulation, there is an obligation to retain the employee documents. Depending upon the type of documents, the retention period is three years and above from the termination date. WeP's Employee Record solution ensured the company's former employee records and helped them comply with the HR policies and the regulations.
(Source: Click Here )
Advanced Search feature:
All documents and related Metadata, file name, content is stored in an elastic search engine. The inbuilt algorithm keeps track of the search's relevance for faster retrieval of data.
WeP Employee Records offered three different ways of advanced search!
· Metadata Deep Search – An advanced form of search using keywords.
· Content-Based search – Search any file/document based on the content within the files/documents.
· Filename Based Search – The traditional way of searching for a desired file/document with the given file's name.


Seamless collaboration with employees & partners, easy integration with third-party applications made it more flexible!
Security:
The e-commerce company's IT team felt comfortable as they understood the WeP Employee Records Management system had AES 256-bit encryption for file storage and offline file. File download was accomplished by sending encrypted files (AES 256-bit) through HTTPS. Document access permission was set at folder and subfolder level (Permission: Read, Edit, Hidden, and Full Control). As the e-commerce company used google for user management, WeP provided integration with SAML.
Conclusion:
WeP Employee Records Management System drastically reduced the time spent on data management from two to three hours per day to zero hours by completely automating the process. Data compliance of employee records was achieved through the dashboard, indicating any missing employee documents to HR. Thus, WeP's Employee Record Management System acts as a complementary to Human Resource Management Solution (HRMS) in managing company's employee records.
Recent Post