GST compliances with ease and bang on time through WeP ASP GSP Services!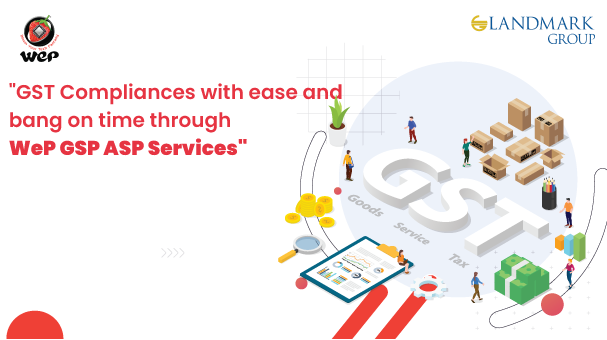 Background
Landmark group India, one of the giants in the retail and Hospitality industry commenced its operations in 1999. It is well known for its various brands like Lifestyle, Max, Spar, etc., Within a short span of two decades, the company has successfully spread its wings across the length and breadth of the nation with more than 630 stores across 145 cities.
GST Compliance Objectives
Effective handling of enormous volume of transactions both under B2B and B2C segment which were to be furnished in GSTR-1.
The herculean task of accurate reconciliation between GSTR-2 and 2A, which is a must for claiming accurate input tax credit in GSTR-3B as well as annual returns.
Quick downloads of GSTR-1, GSTR-2A for comparisons and verification purpose.
Timely escalations and follow up with suppliers for default in return filing.
All the above-mentioned activities were aimed at timely, accurate, and more transparent compliance, with minimum efforts and resources.

Why The Change?
The entity initially banked on using GST offline tools and JSON downloads for all return filing and associated compliances. And the experience was very unpleasant.

The staff involved in return filing tasks were burning the midnight oil to complete filings within targeted dates.
The efforts were doubled due to the unstable and uncertain behavior of the GST portal in the initial times.
Data downloads were not instant. And the most annoying fact was that the multiple JSON's generated in the GST portal required consolidation before performing any further action.
In spite of tremendous effort put in, it was found difficult to reconcile such a huge volume of purchase data with GSTR-2A to claim the input tax credit in accordance with provisions of the GST Act.
Tangible Benefits achieved with WeP GST ASP services
User-friendly ASP for efficient management of more than 70 GSTIN of 5 different PAN through a single login.
Meeting return filing due dates with ease were no more a nightmare. WEP ASP portal facilitated effortless uploading of voluminous GSTR-1 data with a specialized bulk upload feature. The uploads which required almost 4 hours of effort earlier are now done within a matter of 15-20 minutes. Even the error rectification process has become extremely simple with enhanced clarity.
Substantial reduction in time spent on reconciliation and determination of input tax credit.
Filing status track reports enabled quick follow-up with suppliers for default/inconsistencies in the filing.
Faster downloads of data.
Excellent training personnel and local support system for a smooth transition and continuous support.
Wide variety of general features and quick customisations of features to suit our needs.
To conclude, Landmark group's experience of association with WEP GST ASP for more than 2 years is wonderful owing to various aspects like minimum turnaround/response time, exemplary services and support right from onboarding to till date, including handholding during the transition process and most importantly the organizational commitment towards providing the best possible services agreed upon deliverables to their customers at a very affordable price.

Hence, it takes immense pleasure to say that Landmark Group is one of the most reputed customers, added to the list of our happy and satisfied customers.

Recent Post