Why Automate Your Procure To Pay Process in 2021?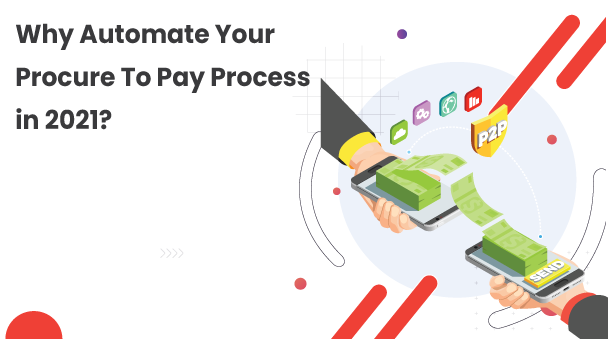 2020 witnessed the unprecedented COVID-19 pandemic and its after-effects in almost every area, including humans and businesses. As a result, organizations across the globe had to adopt a new approach to keep their operations going. Hence, digital transformation became the need of the hour for every industry, including financial systems and departments.
With most of the task force working remotely, finance organizations had experienced lesser efficiency in manual accounting processes. Companies understand the importance of taking a holistic approach in all facets of the business to emerge in the global and competitive economy.
Procurement software is the ideal solution for the perfect way to accomplish repetitive, tedious, and time-consuming tasks in organizations.
What is Procure to Pay Automation?
A procure to pay (or P2P) solution is an automated system that integrates the procurement software with accounts payable that streamlines the process with added accuracy and enhances cost and time efficiencies.
A Procure to Pay Cycle is an essential process in any organization, and today it is not easy to survive without automation. With everything getting digital, a P2P process must also be automated. Any business may be traditional or online or a blend of both. Understanding the procure-to-pay process and the automated systems that harness it is necessary.
Every organization needs raw materials and services to run its business. The procure-to-pay process covers every step that involves procuring the materials and services, right from requirements identification to vendor payment. The Procure to pay cycle involves planning, buying, communication, governance, payment, and supplier onboarding. An automated procure to pay solution integrates the purchasing department with the accounts department and offers an end-to-end view of the P2P process.
The procure-to-pay process primarily involves four key stakeholders as follows:
● The department that puts forward the request.
● The accounts payable department.
● The procurement department and the suppliers.
The procurement and accounts payable teams check the end-to-end transaction status from the order to payment.
Top Reasons to Automate your Procure To Pay Process in 2021
The procure to pay software automation offers a wide range of benefits to your organization's procurement and accounts payable departments, e.g., sales improvement, spend management, and supply chain management. Read on to know more.
1. Simplifies Procurement Processes: A procurement software links the organizational processes as a whole, approving requisitions faster, appropriate selection of suppliers based on data, and production of purchase orders (or POs) and sending them to the suppliers digitally via electronic media.
2. Reduces Inherent Costs: An automated Procure To Pay Solution allows organizations to go paperless, reducing time and costs in manual invoice processing considerably so that the employees who are working can take more strategic initiatives fulfilled with automation without wasting time on the repetitive tasks.
3. Offers Complete visibility: A Procure to pay solution provides overall visibility of the supply chain. It gives the ability to view the status of invoices and processes to both buyers and suppliers in real-time. Thus, the leads and supply chain or logistics managers have reasonable control over payments and spend analysis for running a business.
4. Enhances Efficiency: Automating the P2P cycle increases overall organizational efficiency as it automates every manual process and eliminates errors associated with the provided inputs.
5. Improves Supplier Relationships: The centralized portal offers a complete view to the suppliers so that they know when they receive payment and gives them the necessary information to make a better decision, thereby fostering communication in the organization.
6. Better Exception Management: As the invoices are automatically processed digitally, exceptions can receive attention for quicker resolutions. A speedier resolution on the anomalies noted in invoicing offers control over supplier queries that can be managed easily.
7. Leverages Negotiation Potential: Suppliers who are confident with their payment status are willing to offer beneficial terms for the buyers while ensuring that suppliers have the revenues for scaling up their business.
8.Data Capture for Better Decision Making: A robust procure-to-pay solution offers on-demand reporting capability. Using real-time and historical data, companies can control the cash flows and working capital better.
9. Assists in Contract Management: P2P cycle automation goes through the digitization of the processes and makes the contracts and necessary documents available at your convenience when needed for all the stakeholders involved in the supply chain. This management of records improves compliance and ensures that the orders are stored centrally.
Conclusion
This article highlights the procure to pay process and its significance in every organization. As it involves all the processes right from the start, automating the entire P2P cycle can speed up all the processes involved and enhance business operations efficiency and the whole organization.
Thus, we have also mentioned some of the top benefits you can obtain by automating your procurement software.
Digital Procure to Pay Solution: How do you automate with WeP Solutions?
Get ready to make your employees focus on essential tasks right from vendor price negotiations, identifying cost-saving opportunities, and so on with the WeP procure to pay software automation. We offer you a wide range of options to procure more with a lesser workforce at prices you would never have encountered before.
We aim to eliminate frictions throughout the procurement process. We offer aid in the order placement to payment management with our procure-to-pay automation solution that ensures convenience, zero errors in checks and balances, informed vendor selection, and payment processing.
Recent Post