What To Look For In A Procure To Pay Automation Software?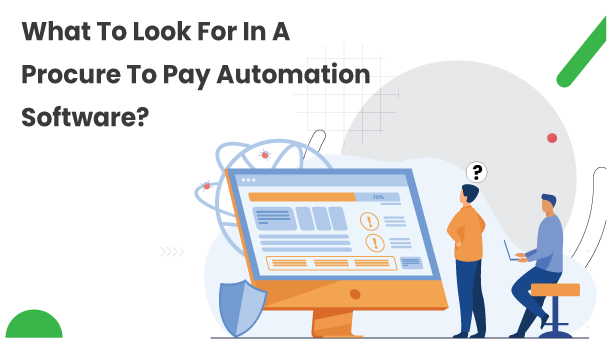 Business heads in every vertical want to make the best of their Return on Investment (ROI) in lesser costs to cope with modernized strategies. A procure-to-pay cycle in a business integrates the purchase and account payable systems to maximize efficiency involving goods selection, compliance adherence, and invoicing. Thus, automating the process is a great way to achieve a more substantial ROI which is every organization's ultimate aim.
Seamlessly automating the P2p Process enhances efficiency, mitigates errors, and cuts costs by leveraging information shared between Procurement and Accounts Payable departments. However, instead of gaining the proven benefits, it has been surveyed that only 19% of organizations have completely integrated a centralized Procure To Pay Solution. Inculcating the procure-to-pay automation can offer maximum competitiveness and profitability to your company.
In this article, the main focus is on the virtues that you need to look for when automating a Procure To Pay software in your organization. Before that, let's take a quick look at the meat of this article, i.e., the procure-to-pay process.
What is a Procure to Pay or P2P Process?
For any business, customers are integral to keeping a business running. It is crucial that you identify vendors and suppliers and adequately compensate them for their goods or services. This whole process is called "procure-to-pay".
Simple at the surface, a Procure to pay process involves lots of procedures, collaborations. The procure-to-pay automation technology organizes, automates, and controls P2P tasks involved in the process. The following section will discuss aspects to consider when automating the procure to pay software.
P2P Automation: What Criteria to Consider when opting for it?
In addition to connecting your procurement team to your finance department, procure-to-pay automation takes a previously complex process to gather maximum ROI from every transaction and transform it into a rich opportunity not only for cost reductions and reduced payment cycle times but also for data-driven strategic planning, guiding efforts to build value at the enterprise level.
A Complete 360 Degree View
A flawless procure-to-pay solution tracks each transaction in real-time at every step of the P2P process. Chances of human errors reduce when implementing the P2P solution, and the system can flag duplicate requests. Every transaction can help you save money and improve the process to offer greater profitability from the orders for items already in inventory with outstanding invoices without a purchase order.
Tracking every transaction in real-time helps you identify potential bottlenecks, handle exceptions such as budget increase requests with new process flows, and use the information on the buying patterns and trends to recognize potential improvements in the P2P process. It also helps you identify opportunities to negotiate favorable vendor terms or pricing and create an accurate and detailed budget report.
Centralized automation in your procure to pay cycle must reduce fraud risks and handle requests and approvals, making it difficult for unsolicited vendor invoices sent by scammers to enter the system. Frauds experienced in company systems drastically affect the companies on a vast scale.
A procure-to-pay (P2P) cycle encompasses all transactions and interactions with vendors and suppliers, digitizes supplier records, and configures secure procedures. It is vulnerable to the maximum risks for internal and external fraud. Efficient P2P automation should prioritize risk management and optimize processes by implementing organizational practices and strategies to safeguard against these threats.
Lesser Risk with Better Compliance
Every company is exposed to risks that can hinder the enhancement of ROI. Look for automated procurement software in your procurement and accounting system to reduce human error, invisible spending, and lower quality supply chain management. It must also allow you to generate accurate financial reports with a detailed audit trail for every transaction.
A well-defined procurement software solution includes P2p cycle automation, contract management, customizable workflows, and better vendor compliance for getting the return for each cost spent.
Streamlined Supply Chain Management
An automated P2P solution must assist you in managing the procurement and financial data and help create a knowledge database of your vendors. A centralized ERP document management makes it easier to track each vendor's terms and conditions, potential discounts, and overall company performance. With a P2P solution, you must be able to prioritize vendors who offer long-term and mutually-beneficial relationships. With a managed supply chain, you will see real ROI improvements with re-negotiated contracts providing better terms and conditions along with favorable pricing.
Lastly, procure-to-pay automation adds efficiency in vendor evaluation, selection, and payment with the aid of technology. It uses software that eliminates manual tasks, streamlines department collaboration, and helps save capital through added accuracy.
With this article, we have highlighted some of the main points that you must look for in a procure to pay automation software and how your organization can benefit by implementing it at every step.
Procure to Pay With WeP Solutions
With WeP Solutions, you can eliminate every source of friction involved in the P2P cycle, from placing orders to managing payments. WeP Solutions smoothens the entire P2P cycle involving purchase requests, POs; receipts ensuring zero errors with appropriate checks and balances for easy management of approvals and checks; offers an informed vendor selection with a centralized database for matching payments and centrally storing records for a flawless payment processing whether manual or automated.
Recent Post