What Is The Document Life Cycle Management System & Why Does It Matter For Your Business?
27 Jul, 2022 Siddarth Nandakumar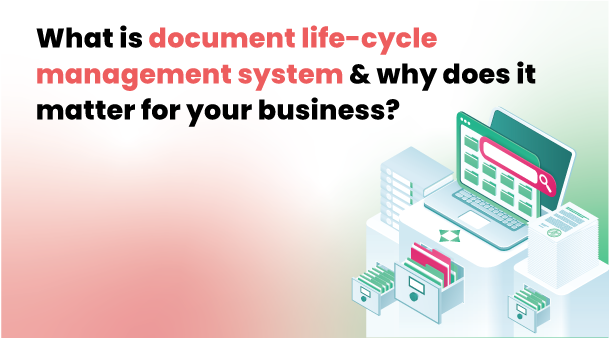 A document lifecycle management system digitizes document storage, access, and sharing of all business documents. It is the best solution for your business to move away from paper storage. With DMS, there will be no need to print and store official documents. Several years' worth of documents that fill up multiple cabinets can be stored safely and securely in digital formats in data servers on the cloud, freeing up all the storage space.
Table of Contents
What is a document life cycle management system?

Why is document management necessary for your business?

Phases of document life cycle management system

How can a document life cycle management system help your business?

Benefits of using document life cycle management systems

What to look for in a document life cycle management system?

Conclusion
Brand snippet: WeP document lifecycle management software enables you to leverage state-of-the-art document storage capabilities for your business digital transformation journey. The cloud-based affordable solution supports integration with numerous applications and low-code automation. Contact us now to book a customized demo for your business.
What Is A Document Life Cycle Management System?
A document life cycle management system is an automated digital solution to digitize, store, organize, classify, access, and share business documents. As businesses move away from paper documents and move towards digital documents, the need to store these safely and securely arises. The collaborative business ecosystem demands businesses to store and share business documents rapidly. A document management system streamlines business processes and enables workflow automation for processing the documents.
Why Is Document Management Necessary For Your Business?
Without document lifecycle management software, enterprises must rely on manual effort to store the business documents in paper format. Even if the documents are stored digitally using on-premise servers, controlling access to these documents and sharing them becomes a huge problem.
Following are some of the challenges businesses face when it comes to document management:
Chaos while digitizing and managing documents

Time-consuming document life cycle process

Inconsistent data without version-controlled document tagging

Inability to trace documents

Frequent data loss issues because documents are often lost in the massive pool

Difficulty in ensuring data security at all times

Accessibility issues that prevent organizations from establishing access control

Inability to share data successfully for collaboration

Inability to track documents and changes to maintain version control

Training employees to use cumbersome document management system

No scope for integration with other enterprise applications

No scope for workflow automation

No way to ensure that all the copies of documents are destroyed
To overcome all these document management challenges, your business needs end-to-end software for the document management system. The software can handle your business documents right from the creation stage to their destruction.
Phases Of Document Life Cycle Management System
A document life cycle management system creates a digital archive for all your documents, enables access to appropriate users, tracks modifications, repurposes document information, establishes access control, stores them in secure servers, and destroys the documents when their life cycle ends. All these are done automatically by the DMS with minimal manual intervention. Document processing stages depend on the organization.
Mainly, a document life cycle has the following six phases:
Document Creation: This stage begins when the organization creates or receives a document. The user can manually create it on paper, computer, or mobile device. It can also arrive at the company via email, fax, or regular mail. At the creation stage, the document is transformed into its digital version to store in a centralized location.
Preparing Usable Content With Document Editing: Sometimes, the document needs multiple edits from multiple users to make the content usable. Meaningful indexing is crucial to access and track the document in the digital system. Revision security, synchronization, versioning, etc., are required to allow multiple people to edit the document.
Document Distribution: Depending on the purpose, the document will have to be distributed internally or externally. At this stage, the document has meaningful information ready to be consumed. At this stage, the document lifecycle management system can make the document read-only or allow limited edit access when the document has to go through complex workflows. In this stage, the document is actively accessed by multiple stakeholders.
Archiving For Long-Term Usage: Once the document processing is completed, the document must be stored in an archive for future use. It must be meta-tagged and easily searchable because any document may be needed at any time for auditing. The data storage must be safe and secure.
Legally Compliant Destruction: When the document expires, and any business process no longer needs it, it has to be destroyed, ensuring legal compliance. The digital management system destroys all virtual copies of the document ensuring permanent deletion.
How Can A Document Life Cycle Management System Help Your Business?
When your organization finds a way to store and retrieve data ensuring safety and security easily, it results in increased business productivity. A document lifecycle management is useful for your business in the following ways:
Increased productivity by eliminating manual labor for document processing

Increased efficiency because of accurate data availability

Integration with other enterprise applications for quick document delivery

Workflow automation simplifies business tasks

Better version control and organization of documents used by multiple departments

Easy compliance assurance

Improves collaboration with internal and external stakeholders with efficient document sharing
Benefits Of Using Document Life Cycle Management Systems
More than 77% of business owners want remote access to their files, especially when the business transitions to the mobile market. The best document management software provides access to important business documents anytime, anywhere. It is not just the big enterprises that need a proper records management lifecycle. Small and medium-sized businesses can also enjoy the following benefits using document life cycle management software:
Reduced need for data storage because digital documents don't consume physical space

Reduced need for IT infrastructure because of cloud-based solutions

Enhanced security with complex encryption technology

Document retrieval and sharing take only a few minutes

Improved disaster and recovery plan for data security

Less burden on the IT department with cloud-based DMS solutions

Easily establish access control to limit document access
What To Look For In A Document Life Cycle Management System?
While choosing a document lifecycle management system, you must make the right choice to get all the benefits. You have to look for the following features:
Industry experience of the vendor

Integration capabilities of the software

Collaborative features of the document life cycle management system

Data security assurance

Cloud-based storage and access management

Multi-source support for document input

Document version control and tagging for maintaining a single source of truth

Advanced indexing for quick search and delivery

Support for workflow automation

Support for application creation for document processing
Conclusion
The records management lifecycle is easier to manage with digital document lifecycle management software. Your business can easily implement cloud-based solutions without huge capital investment. The DMS solution makes it easier to manage documents and promotes automation and integration, paving the way for a complete digital transformation.
WeP has the best software for document management system that can be implemented quickly to digitize all your business documents quickly, efficiently, and effectively. It is the best solution to scale up your business rapidly with improved partner collaboration.
Schedule a demo with us to begin your business digital transformation journey.
Recent Post