What Is Management of Change & Why Is It Important For An Organization?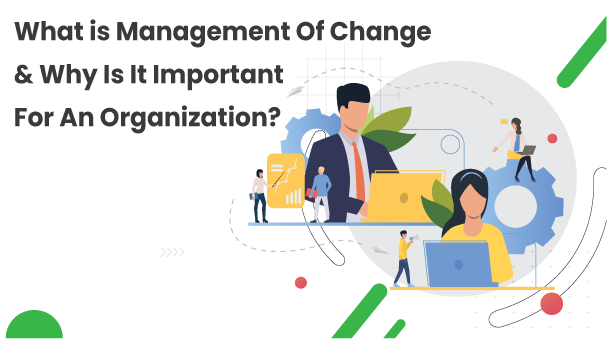 Did your organization undergo a recent significant change?
How did your workforce react to the transforming process? Did they welcome the change, or did the process of switch-over burden them?
At WeP Solutions, we understand that organizations worldwide go through multiple challenges such as changes in existing policies, renovation of existing facilities, readoption of predetermined methods, and replacement of highly scalable facilities. Sudden unplanned changes can result in a fatal blow to the market prospects of any company and shake its core strength. Consequently, this might result in a severe negative outcome for all stakeholders. Just like all employees, every stakeholder needs time to adapt to the changing workflow management system. WeP Solutions bridge this gap between the newly reconstructed environment and the company's existing workers in the most professional manner.
In this blog, let us understand the process of organizational change management and its importance.
What is Management of Change (MOC)?
Management of Change (MOC) is the process adopted by an organization when they transition. This transition may involve business expansion, adopting new business process automation software, changing the existing business model, and many more.
Organizational change management comes with various benefits. Let's see how.
Importance of Management of Change (MOC)
Provides a Clear-Cut Transition Plan
With the management of the change process, everyone in the organization comes on the same page concerning changes. The management can come out with a feasible transition plan that optimizes both costs and efforts. In this way, it becomes easy for the organization to adjust gradually to drastic changes. For example, if an organization plans to comply with greater regulatory guidelines, all the workers can be well-trained as part of change management.
Enhances the Skills of Your Workforce
Changes allow you to enhance the skills of your workforce. In turn, they become more productive and efficient in doing their tasks. For example, imagine you plan to transition all your projects to project management software. This business process automation software requires your employees to learn about the basic setup. But, with clear training, they can easily use the software to plan and enhance their work efficiency.
Disruptive organizational change management can be highly unproductive for your business in the long run. You may end up doing crucial changes manually, which can incur a considerable amount of money. But, when you plan the change management process for months, you can cut down unnecessary logistics costs.
Prepares the Organization for Future Challenges
Change is an inevitable part of the growth of any organization. Unless an organization evolves constantly, it cannot take up new challenges. Imagine you plan for a business expansion. Here, you need to increase the capacity of both your workers and IT devices. Hence, your organizational change management should align with all the above needs.
Adds Resilience to Your Organization
Frequent changes in the organization make the workers and management more resilient to drastic events. When you successfully manage a change, you create a future process to take it to greater heights.
An organizational change management process involves various steps.
Steps Involved in Organizational Change Management
Management of Change (MOC) starts with defining a change, planning a change, to finally monitoring the ground level working of the change management process.
The first step in a change management process is defining the change. What does the change mean for your business? Is it aligned with your organizational goals? Ensure that the shift also correlates well with your mission and vision statement. In this way, you are more focused on the essential aspects of the Management of Change.
Next, plan for the change. In how many days or months are you going to implement the change management process? How many resources do you need for the Management of Change? It is better to make a record of all your requirements. And start planning for the change earlier on. In this way, you will get enough time to make the transition.
Also, allocate individual responsibilities for handling the change management process. With shared responsibilities, it becomes easy to plan organizational change management.
Keep Your Employees on Board
Open communication with the employees is key to implementing organizational change management. When they understand the significance of the change management process, they will be more than happy to cooperate with the management. Many of them will even be ready to go through temporary challenges as part of the transition process.
For example, in the case of a high-priority client project, some employees may have to work harder by putting in extra work hours. But, when you better communicate the project's importance, your employees will take extra pain and work more hours.
Once you have brought all the stakeholders on a single platform, it is time to implement the management of the change process. Many organizations make use of a third-party service provider to help them with the change process. Also, there is various software available to implement the changes. This software makes use of digital documentation techniques to back up all your data on the server.
Finally, monitor the changes over some time. Some changes are tracked manually, while others can be tracked using automation software. For example, if you have migrated your documents to a digital platform, you can track how the documents are created and accessed in real-time. Or, if there was a major change in upgrading your employee's skills, you can track their work completion time to understand the effectiveness of the change.
Why Do You Need Us?
Worried about making the right management change for your escalating business? WeP Solutions has got it all covered for you:
We ensure that the changes adopted by every organization are well-defined and aligned with their business goals.
Our professional team of management enthusiasts plans the changes for your organization in advance so that the complications can be curtailed.
Our DMS will ensure that all effects of the management change are visualized and understood with utmost clarity and are pre-planned by experts working for the same.
We implement DMS to ensure a smooth switch-over process for all your employees. The DMS MOC process is articulated most skillfully to ensure that the proposed changes are coherently conveyed, and proper care is taken to prevent any adverse impact.
We maintain fluent and transparent communication with all your employees to understand the changes that might support them in aligning with the needs and prospects of the organization. This enables stakeholders to be more forthcoming to undergo the change process in a hassle-free manner.


Final Thoughts
Management of Change is a continuous process in an organization's evolution. With better planning, the changes become long-lasting. Numerous challenges such as reducing business costs, ensuring organizational resilience, enhancing employee skills, and maximizing brand image will cross your way and bring about difficulties in the change process. WeP Digital will guide you throughout the Management of Change (MOC) process from scratch. Get in touch with us today!
Recent Post