Using Employee Record Management Software To Increase Your Efficiency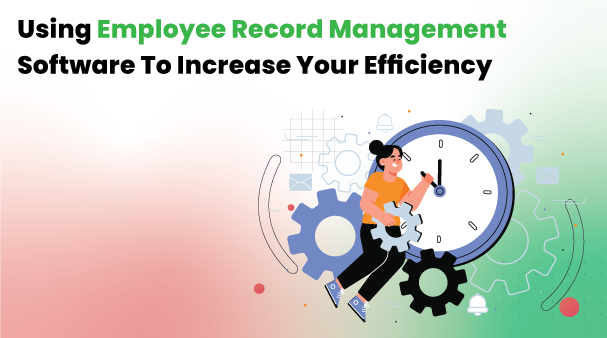 Employee Record Management System
The Employee Record Management System (ERM System) is an electronic filing application that helps HR professionals capture and store employee records and track data to keep the organisation running smoothly.
An effective employee management system should include the following key features:
● Time Log Management - Where employee timesheets track time, data is captured electronically through most access card entries.
● Leave management - This module covers leave, time-off, leave cashing and compensation.
● Employee Database - Functions like digital filing cabinets that secure each employee's vital data with confidential information.
● Employee Self-Service (ESS) Portal - The ESS portal allows employees to handle a variety of human resource-related access and updates that may otherwise be required by HR. Tasks include updating personal information, submitting documentary evidence, availing facilities as per company policy and filing valuation related matters.
Employee records management software is a powerful document management solution. Document handling functions minimise redundant tasks and allow you to manage time efficiently. The outcome is increased productivity of your company. The employee management system manages all record-keeping processes seamlessly. With the capabilities of the employee record management system, organisations can accurately maintain employee records from hiring to resignation or retirement.
Benefits Of Employee Record Management Software
HR managers manage their workforce more efficiently and productively with employee management software and improve employee satisfaction. The main advantages of organised employee record management software are:
● Less Administrative Effort - The administrative task of keeping employee records is automated by a convenient organisation of employee data based on categories and tags, updates and audits of employee records. The staff management system promotes less work on paper, less use of office space and exclusion of storage.
● A single source of employee data - a single database in the central repository containing employee records eliminates the need for redundant records in many places. The document management system automatically tracks and archives all employee documents. Any changes made by managers, administrators or authorised office staff are reflected in all HR system modules.
● Integrate with other systems - The employee record-keeping system can easily integrate with other existing systems and streamline all business processes. ERM software prevents problems with duplicate HR entries, multiple Excel reports and data migration.
● Data Security - Strong security features, including AES 256-bit encryption, password protection, and access control protect employees' sensitive information while sharing data. Secured data storage on cloud repository and on-premise using the firewall.
● Compliance - Supports data compliance issues with options like real-time workflow and audit trails. Follow the rules for timekeeping and record-keeping per state and federal laws and local labour laws, such as keeping three-year pay records for employees after termination.
● Privacy - Employee records management software protects employees' data in compliance with security and privacy rules, including the confidentiality of employee medical information such as the history of disability and similar personal information.
● Legal Protection - The employee record management system helps maintain HR records for future evidence if there is a legal requirement in the case of regulatory verification and employee conflicts.
● Efficient workflow - ERM software achieves a more efficient and organised workflow through access to managed documents and secure sharing of the right information at the right time. The software configures permissions related to your manager and employee records.
Employee record management Process
As information is rapidly being generated today, managers need to make well-known decisions and use employee records management systems to process this information. The staff management system helps streamline the entire process. The electronic record-keeping system automates the organisation and keeps employee records so that the overall HR process becomes complete proof. ERM software handles the induction process efficiently, where the company's policies and processes can be stored in the cloud repository. The newly joined employee can access and go through their context. It helps the HR department to carry out the induction program smoothly. Employees can also view their subordinates' profiles and other non-sensitive work data. The feature of hiding important documents is that only authorised people can see them. On behalf of the employees, they can submit supporting documents like tax assessment data on time.
Overall, workflow automation of employee record management with ERM software helps enhance human resource management efficiency for the organisation. Advanced business process automation includes digital onboarding processes that support offering letters, background verification, e-signatures and employee joining and orientation formalities. In addition, ERM automation makes it easy to handle basic, recurring tasks without manual intervention, thus freeing the HR team for more creative and priority tasks.
WeP ERM Software
The traditional approach of managing physical records of employees requires a manual bookkeeping system or compiling employee records by page during the hiring process. The long-term processing of personal data was complicated to manage in terms of compliance, legal and audit. The transition from a manual system to a computerised system gave birth to automated ERM software.
In the digital system, data is stored in electronic records for easy access, update and sharing remotely from any device. In addition, a ubiquitous database of centrally located records makes it easier for HR professionals to manage staff data, simplify the onboarding process, and make data-based decisions during their tenure.
WeP ERM Features
WeP Employee Record Management, a state-of-the-art application secured at the enterprise level, allows you to keep your electronics employees' files ubiquitous with productivity and compliance. In addition, the application helps track, calculate and retrieve employee documents and personal information through dashboard reports and receive automatic notifications of any discrepancies.
The key features highlighted by WeP ERM are:
● Built-in workspace and digital folder configuration
● Real-time preview of the document
● Password protected e-lockers employee records
● Protection from data breaches
● Secure data sharing with auditors, BGV team and authorised stakeholders
● An advanced encryption standard (AES 256-bit) to secure data protection.
● Ability to reconstruct events for audit testing if data is not complied with
● One-on-one secure communication connected via employee mailbox
The use of employee management software is an innovative practice that ensures that your business nerves remain strong. In addition, it increases employee engagement and helps increase employee retention.
Recent Post