Ultimate Guide to Manage Your Documents Effectively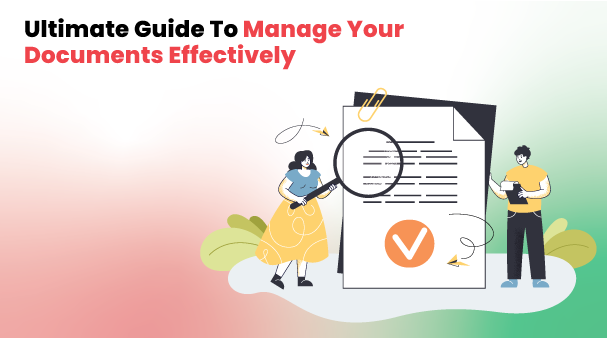 For businesses, having documents in order is essential and can leave a huge impact on their functioning. It allows easy information access and lets you be compliant with local regulations. That is why having the best document management system (DMS) serves the best purpose in keeping the documents in order. It allows organizations to store, exchange and transform documents across a network digitally, helping business managers reduce complexities and improve overall office efficiency with lesser paper usage.
Users can consider two options for managing office documents: on-premise DMS and cloud based document management systems.
What is Document Management System?
Document management is all about organizing, filing, and storing documents. The right approach to managing documents empowers the organization's employees, clients, stakeholders, and vendors to know where they have been stored. The best enterprise document management software captures, collects, retrieves, and stores business documents created in an organization and performs business process automation.
Let's explore the two options for storing and managing the documents:
i. On-Premise Document Management System
In an on-premise document management system, the software houses the data installed on the private business server and local hard drives. It offers better control and safety for the documents.
ii. Cloud Based Document Management System
Cloud-based DMS deals with a local document management system existing in the cloud. It stores the company's documents and data using remote virtual technology.
Importance of Document Management System for Business
The best enterprise document management software makes it reliable to transmit the organization's data to the cloud. Organizations integrating a document management system take insights into the documents to improve their workflow efficiency, provide enhanced security, easy retrieval, and reduce costs.
Document management system benefits are:
● Document Centralization
A reliable DMS centralizes documents from all the external sources, such as PC, laptops, mobile devices, cloud, emails, and folders, in a single repository and makes them available in an easy-to-access format. With this, the employees can locate the document from different places and perform the assigned tasks with minimum effort.
● Team Collaboration
Document management allows your team in the organization to collaborate seamlessly so that the members from every department can locate the relevant document from the library. The assistance and instruction make the collaboration organic and poignant.
● Improves Efficiency
A document management system reduces the time and space so that the employees can effectively manage their office hours and have an enhanced storage efficiency.
● Workflow Automation
A document management software streamlines the authentication, creation, and verification of the documents systematically.
● Regular Reminders
A DMS offers reminders about the document's life cycle regularly. It keeps the employees updated regarding upcoming tasks and documents to be modified, updated, and expired.
● Safeguarding Sensitive Information
An efficient document management system allows you to control and decide who can share your information with password protection and document encryption. You can also watch who opened, viewed, or edited the document.
● Back-Up and Recovery
A document management system makes it possible to back up the files to be recovered in the event of document theft or natural disasters. As the documents are in digitized form, they can be stored centrally and cannot be misplaced or lost.
Tips to Manage Document Management System
● Keep a Standard Filing System in Place
Make sure to keep your documents in such a way that it is easily navigable and implementable. The best way to manage your files is by creating folders for different sections of your business.
● Invest in a Business Security Software
The digital world demands to keep the online files secured. For the same, using sophisticated hacking and infiltration techniques can help in accessing the documents and records. A business security software protects your digital assets and keeps them less prone to cyberattacks.
● Keep it All at One Place
Keeping all the work records in one place maximizes practicality and lets you find what you have been looking for quickly. Go for a convenient storage cabinet for paper documents and share your digital files with your team on a collaborative platform.
● Be Up-to-the-Minute
The business and technology world is evolving continuously. Make sure to keep your filing systems up-to-date and organize your filing systems regularly. This ensures optimal performance and business continuity and reduces costly oversights. This will streamline your business operations.
● Keep Everyone Informed
Make it a point to keep your employees and staff informed about any steps you are taking while optimizing your filing system. Train them to use and check the files daily. Ask for timely feedback and recommendations on improving the business' file management.
How WeP Document Management Software Helps Businesses to Manage Their Documents
WeP's document management software is helpful for your business to establish your digital transformation journey in this digital landscape. It offers you a centralized repository to create, manage and share your documents in a secured and controlled way.
With WeP DMS, enterprises can enable business process automation. Click here for more details.
For more such informative articles, switch to WeP Digital!
Recent Post