Traditional vs Automated Procurement Processes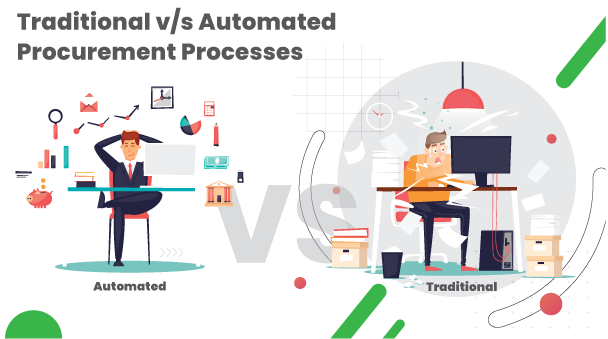 Procurement has evolved drastically over the years, and we're still living in a new phase of procurement management. You have most likely heard about automated procurement and its numerous benefits for small, medium, and large organizations.
Procurement is far more complicated than it appears. The more complicated it is, the more difficulties there are. These problems may be avoided and resolved with automated procurement procedures by implementing Procurement Software. Many businesses, however, still use manual methods.

What is Traditional Procurement?
Traditional procurement entailed manually administering the function, with a large reliance on paperwork, making phone calls to individuals for updates, and so on, for products and services to arrive at their destination within a certain time period. Because of the lack of visibility, the procedure was not only time-intensive, but it was susceptible to interruptions from different sources.

Drawbacks of Traditional Procurement

Previously, the procurement function was handled manually, with a heavy reliance on Excel files, paperwork, phone conversations, and in-person interactions.
The objective of this tactical strategy was to simply fulfill products and services in order to acquire the appropriate amount at the appropriate price at the appropriate time.
Companies overlook the benefits that strategic procurement may provide by viewing it as a short-term purchase instead of an integrated component of company operations.
Moving procurement activities to a uniform, digital platform simplifies and accelerates all source-to-pay processes, allowing for greater value and reductions to be generated in the procurement process. This is not possible in traditional systems.
What is Automated Procurement?
Automated procurement is the practice of automating your procurement operations in order to increase efficiency and shorten the time it takes to complete them. It shortens the procurement process by relieving staff of time-consuming and repetitive activities.

Procurement automation software frees you up to focus on mission-critical tasks like decision-making and planning. It streamlines the procure-to-pay process while lowering costs.
Understanding the Differences Between Traditional Procurement and Automated Procurement
When finding suppliers:

In conventional procurement, procurement officers must explore various suppliers' portfolios. They might not even know whether they provide discounts or not, then seek the suppliers out via several phone conversations, which are generally conducted in person or with pen and paper.
With procurement automation, you'll be able to examine hundreds of online catalogs from many suppliers simultaneously. You can contact the seller online to check availability and quantities and make a purchase instantly.
Requisitions for purchases:

In conventional procurement, one needs to submit a physical note listing the products needed and their costs for approval.
In automated procurement, purchase requisitions get produced and authorized in the system itself (under particular pre-set circumstances) through Procure To Pay Software, which saves time.
Purchase for Orders:
Purchase orders get manually prepared and authorized in conventional procurement and then transmitted to the vendor via fax or courier in any of the standard formats.
In automated procurement, purchase orders get produced, authorized, and delivered to suppliers online in minutes, and the seller may promptly acknowledge the same.
Tracking Orders:

To follow the status of an order in conventional procurement, procurement officers must contact suppliers via phone calls.
Order monitoring and management may be done online via e-Procurement using an order tracking and monitoring system, in automated procurement.
The Benefits of Using Automated Procurement Software
1. Improved efficiency and speedy procurement process

You may not only accelerate but also enhance the efficiency of your buying process by automating it. This benefits your procurement staff by freeing up time for other essential activities.
You may automate all repetitive activities using an automated procedure. This reduces the amount of manual labor your staff has to complete. It enables them to take on even more essential and difficult responsibilities.
2. Creating a centralized system

Automation can assist you in reducing cases of duplication and fraud. It aids in the creation of a consolidated database for all of your information and records. This makes it simple for your procurement staff to locate the necessary papers.

3. Reduction in manual error

Automation, in contrast to conventional techniques, removes paper-based documentation and reduces the possibility of mistakes. When you take the usual route, you not only waste a lot of time, but you also expose yourself to risk.

To avoid human mistakes, it's important to automate your procurement process and implement a paperless approach. It also enables you to simply and securely save data and information.

4. Better Spend Management Increases Transparency

Procurement Automation provides access to more information, which is then consolidated, cleansed, and categorized using advanced analytics, increasing spend accessibility and enabling better spend assessment. You can also monitor your company's spending behavior in real-time, allowing you to better monitor and manage your expenditure and also track your savings.

Why Choose WeP Solutions Ltd?
WeP Solutions Ltd is a cloud-based procurement platform that automates the whole procurement process from start to finish. The following are some of its benefits:

Run and perform procurement procedures with maximum efficiency and cost savings in mind.
Reduce buying risks by streamlining the procure-to-pay cycle.
All buying transactions and contracts are tracked and stored in one place.
helps improve budget allocation by researching the organization's spending practices.
Conclusion
Procurement officers may accomplish much more with the introduction of e-procurement. For instance, Procure To Pay Solution becomes automated when activities are moved to an e-procurement platform, making operations considerably faster since the electronic management of tasks supports and streamlines the purchase process. The e-procurement process eliminates time-consuming duties, allowing you to concentrate on more important duties.

Following the Covid-19 pandemic, automating procurement processes has become even more mission-critical, after the large-scale disruption that was caused to traditional systems across industries. Moving away from paper-based systems has become the need of the hour. Digital technologies are already transforming the procurement supply chain across planning, sourcing, contract management, and supplier management. It is also boosting collaboration and problem-solving. To reap maximum benefits, the procurement process must now migrate to digital technologies to minimize risks and drive cost savings.

To see a demo of WeP P2P Platform CLICK HERE!
Recent Post