Top 8 Reasons To Choose Ricoh Printers For BFSI sector in India?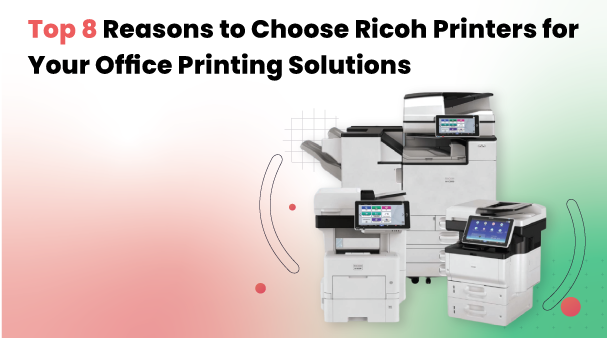 Ricoh Multifunction Printers are always the first choice for any financial institution looking for high quality, performance, and reliability. Find out the top 8 reasons to choose Ricoh Printers for BFSI sector in India.
Table of Content:
1. Why do Financial Institutions need Printing Technology?
2. Why Ricoh Printers are best suited for the BFSI sector?
3. Top 8 Reasons why you need to choose Ricoh Printers in Financial Institutions?
4. How WeP Digital can offer Ricoh Printer Services to the BFSI Sector?
5. Benefits of Ricoh printers
For any business, a multifunction printer is the best resource. It has the unbeatable capability to print, copy, duplicate, and fax documents of high quality cost-effectively. When looking for the best multifunction printer in the market, Ricoh printers top the list.
The article discusses the top eight reasons why Ricoh Managed Print Services is the best printer for office use in India and worldwide. Let us first talk about multifunction printers for business.
1.

Why do Financial Institutions need Printing Technology

?
In today's financial sector including banks, accounting, and tax organizations, growing revenue amongst the credit issues, mergers, acquisitions and security is important.
Hence, the financial industry needs to be stringent about record-keeping and reporting. New regulatory initiatives such as liquidity, exposure, and stress testing have created new processes for generating the reports.
Financial institutions use several kinds of printers, including inkjet and laser printers. Nowadays, with a continuous demand for bulk printing at a high quality, printers are the perfect solution. As they can consolidate office tasks on a single device, saving time and money. They also reduce the usage of single-capability devices, such as scanners, saving the office space and money by reducing the need for individual office supplies.
Below, we have explored some factors to be considered when choosing a supporting printer for a financial institution:
Ø With a print speed of 25 to 30 ppm for micro businesses and 45 to 50 ppm for SMBs, the workflow smoothens.
Ø A3 or A4 paper type capacity.
Ø The optical resolution of machine scanning, i.e., 600 pixels for basic and 4800 pixels for graphics.
Ø Memory capacity of RAM and the storage space.
Ø Ability to print wirelessly, allowing a print or scan from any remote device.
1.
Why are Ricoh Printers best suited for the BFSI Sector in India?
'Ricoh' is one of the leading manufacturers of printing solutions in India. Ricoh Printers are at the forefront of innovation and provide a reliable, seamless printing experience for businesses. They make the process incredibly hassle-free so that the BFSI can focus on innovation and growth instead of being bogged down with operational tasks like quality control, device management, inventory management, monitoring supplies, and more.
2.
Top 8 Reasons why you need to choose Ricoh Printers in the Financial Institutions
In the previous section, we introduced Ricoh printers. Further, we mention the top eight reasons to choose Ricoh printers for the financial institutions:
i. Intelligent Multifunction Printing Technology
Ricoh's printer technologies enable a digital environment to meet the native digital demands. It is equipped with a range of cutting-edge features for improving printing performance. It also offers unbeatable security to the computer folders or emails and supports the modern financial institutions with ease of use.
ii. Always Current Technology:
Ricoh's Always Current Technology enhances the device's life and keeps it updated for a long time. With timely releases, clients get firmware and security upgrades and UI improvements. The security updates allow the device to work as a current model and ensure fleet uniformity.
iii. Improves Employee Productivity
Ricoh helps in reducing operational costs and improving employee efficiency and workflows by optimizing the business processes, including workflow management, invoice processing, and others. The information is stored in the databases for processes and workflows analyzed for generating reports and insights.
iv. Offers Insights
Ricoh offers insights to access and analyze the data to make more informed decisions, resolve potential issues and unleash new opportunities making a smooth digital transformation journey. Optimizing information, empowering employees, and increasing efficiency.
v. Document Management
Ricoh's printing solutions centralize the company's printing infrastructure at one location physically and digitally. It has a sophisticated program using which any wireless device can be used to operate the printer.
vi. Easy Setup
Ricoh printing solutions can be connected wirelessly and set up seamlessly. They are free from cable connections and do not require setting up printer drivers on multiple devices. Once the printer and device are connected, the printing can start.
vii. Portability
Ricoh offers portable wireless printers, which can be accessed from any location and device when connected. The product is also lighter in weight for easy, convenient movement, connected to a wireless network, and accessible from any network-connected device.
viii. Total Cost of Ownership (TCO)
When purchasing supplies such as ink and cartridges, costs are common considerations. Ricoh printers offer a higher Total Cost of Ownership (TCO) and can significantly increase for devices that cannot produce the desired results. Ricoh's multifunction printer manages and controls printing and imaging costs and can offer new capabilities to your organization to improve business process efficiency.
3.
How WeP Digital can offer Ricoh Printer Services to the BFSI Sector?
WeP and Ricoh have come together in an agreement to serve the printing needs of the corporate sector of which BFSI is the one in 2019.
WeP is India's pioneering Managed Print Service provider and the first-ever authorized Ricoh dealers in India. WeP has got two decades of expertise in MPSs in India for selling Ricoh products empowering the businesses to work smarter and being productive furthering the business growth in the nation.
This alliance is meant to supply businesses with cost-effective printing solutions that help the organizations of all kinds in getting more control.
4.
Benefits of Ricoh Printers
● Improves productivity and helps work faster, smarter, and more securely.
● Delivers value to the customer.
● It offers several connectivity features that the user can easily install and print.
● Has an improved interface for better usability and user comfort.
● Ricoh OEM toners extend your printer's life, lowering overall costs.
To know more about our product, visit our website and fill out the form to contact us.
Recent Post