Top 10 Best Practices for Securely Setting Up Your Ricoh Multifunction Printer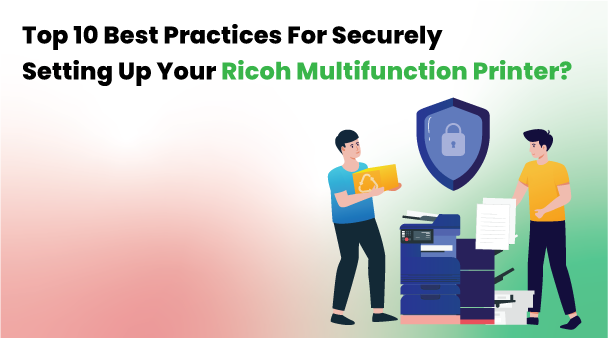 In every organization, it is important to be productive and keep the information flowing. This is possible with the usage of technology. A multifunction printer in an office offers capabilities to streamline their operations and meet the demanding business needs. Ricoh is one of the best multifunction printers providing improved performance and high-quality printing.
This article will discuss the top 10 best practices for securely setting up Ricoh multifunction printers. Before that, let us study the type of printers and what role a printer play in your office environment.
Why is Security Important in a Printer?
Printer security is the security area for businesses that keeps your data safe, avoids unauthorized usage, and helps avoid phishing attempts. A system must be there to manage the access that people have. A multifunction printer has simple technological capabilities and can store large amounts of data. With adequate security measures, companies do not need to worry about printing confidential documents.
Printer's security is also important to avoid hacking the network and the security information. A strong printer security system does not let outsiders compromise the emails, hard drives, or servers.
Which is the Best Multifunction Printer? Find Out What Type of Printer is Best Suited for Your Organization
A multifunction printer is sophisticated and does the tasks of copying, faxing, printing, and scanning, different types of documents at the same time. It can also scan documents and create graphics from them and is the perfect choice for businesses looking to optimize their print environment, productivity, and document output.
As a managed print service provider, Ricoh is the best-in-class, durable, high quality and reliable option to go for that identifies the customers regarding what they want to achieve with their print environment.
Why is Setting Up Your Ricoh Multifunction Printer Security Important?
Ricoh multifunction laser printer must be set up securely to avoid unauthorized access or hacking attempts and manage the data efficiently. Ricoh multifunction printer also maintains and updates the printer firmware, allows remote access using password protection, and uses a firewall on the computer restricting network printing access.
How Can You Set Up and Use Your Ricoh Printer in the Most Secure Manner?
Ricoh printer is known for its ultimate security, collaboration, and technology we offer to our customers empowering businesses to work smarter, be productive and contribute to their business growth.
By following the top 10 practices listed in the upcoming section, you can set up your Ricoh printer securely.
What are the Top 10 Best Practices for Securely Setting Up Your Ricoh Multifunction Printer?
Ricoh multifunction printer delivers products and services in sync with the IT and network security policy. It can monitor, optimize and manage documents effectively and securely. Here are the top 10 best practices to set up your Ricoh multifunction printer securely:
1. Keep an Environment Check
The Ricoh multifunction printers must be installed keeping in mind the environment with proper physical security control.
2. Make Administrator Selection
An administrator and a supervisor must be authorized to manage the Ricoh multifunction laser printer device. Always ensure that the device is under the complete control of the administrator and supervisor.
3. Instructions for Operating
Ensure the administrator is familiar with the operating instructions before the security functions are used.
4. Ensure Site Security
The administrator must direct the users to use the security functions accurately, conforming to the site security policies.
5. Perform Regular Auditing
Ensure that the printing logs are audited regularly and that no exceptions or abnormal activities are detected.
6. Ensure Network Protection
The managed print service provider network must be protected with a firewall when connected to a network.
7. Encryption for Data Protection
It is recommended to make encryption to protect the data during communications and ensure that all the connected devices support relevant security communication functions.
8. Change Password Regularly
Always ensure that the administrator and supervisor are set up and changed regularly to safeguard the printing device from any fraudulent or malicious attempts.
9. Safeguard Information Assets
Make sure there is no information asset left in the device when you are done using it or it is moved to a different location, sold, or disposed of.
10. Use functions to Remove Information Assets
Ricoh has built-in functions and services for removing the information assets that must be used whenever necessary.
How to Securely Connect to the Multifunction Printers Remotely?
With the innovative technology, connecting the multifunction printer remotely has gotten easier. Here are the steps to securely connect the multifunction printer:
1. Adjust the LAN Settings
Connect the printer to your Wi-Fi network appearing on the screen once it's ready for configuration. Locate and set up the Wireless LAN settings.
2. Locate Your SSID
After your LAN settings are accessed, locate your SSID at the bottom right of your ISP's router.
3. Enter Password
Enter your network password after selecting the SSID and ensure that the printer is prepared for all printing activities.
4. Locate Printer Settings
On your Windows Start Menu, locate the icon link on the settings window and click on 'Devices.'
5. Add a Printer
Under the 'Devices' screen, click on 'Add a Printer or Scanner,' after which the printer name with the manufacturer name and model number appears, and the device will get configured and ready for printing.
Benefits of WeP Digital Ricoh Multifunction Printer for Office Solutions
WeP Solutions is India's best Managed Print Service provider and the first authorized distributor of Ricoh Products. With its service network, WeP sells Ricoh products for office automation and industrial printing products.
Reasons Why Ricoh is the Best Multifunction Laser Printer for Office Use
● With WeP's Asset Plus Service Solution, organizations can revamp their print infrastructure without any capital investment.
● Has Low Cost of Ownership
● Remote Monitoring
● Low per page printing cost
● Offers premium security, cost control, and better print management
● Maximizes productivity with secure access from cloud storage accounts
● Streamlines workflows for users to print documents easily
For more information on the device, visit the WeP MPS Page.
Recent Post