The Ultimate Guide To The World Of Procure To Pay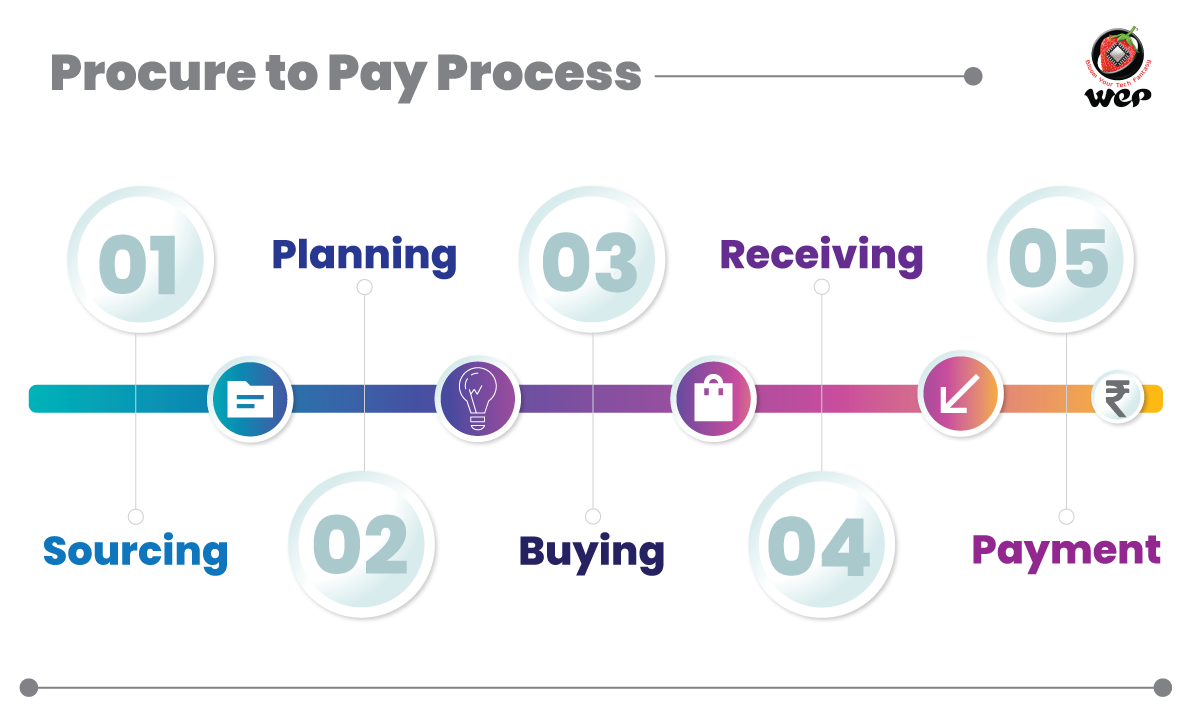 What is the Procure-To-Pay Process?
The process of integrating purchasing and accounts payable methods to achieve desired results is Procure-To-Pay. It is part of a broader procurement management mechanism that has four stages: choosing products and services, implementing enforcement and order, obtaining and reconciliation, and invoicing and payment.
What is the need for the P2P process?
Procure-to-pay software solutions will help you improve enforcement and control among suppliers, contracts, regulations, customers, and accounts payable by digitizing the procurement process. A smooth and effective procure-to-pay (P2P) process is critical to your company's success. On a daily basis, various departments need different products and services. There are also hundreds of manufacturers and product types to consider. You must also follow both internal and external regulations. Simultaneously, the pace is important. But not at the expense of consistency or accuracy.
How will procure-to-pay software improve buying efficiency?
Purchase requisitions, purchase orders, goods receipts, and invoices are all integrated into a single app for procure-to-pay applications. Automation of the procurement-to-pay process will help to streamline the process, maximize spending, increase compliance, lower costs, and reduce risk.
Purchase Requisition and Approvals - A buyer simply enters the necessary information into your procurement tool, chooses the required product/service, and selects their preferred vendor from a master database. A digital procure-to-pay solution also sends the purchase request to all stakeholders and gets approval in the correct order, without requiring any of them to send an email about it.
Purchase Order Management - The majority of procure-to-pay systems generate purchase orders automatically from authorized purchase requisitions and start the PO dispatch process. It's possible to do anything from submitting multiple batch orders to a single vendor to create multiple POs from a single purchase request.
Digitalized Vendor Management - When it comes to vendor management, going digital changes how the procurement team evaluates and scores vendor results. You can depend on easily accessible and accurate vendor data from your procurement system instead of an optimistic "I remember that hardware vendor we used in 2013 offered some nice discounts, but I forgot their name." You can select the best vendor for any offer with the procure-to-pay tool crunching the data on vendor performance–pricing, discounts, delivery schedule adherence, policy enforcement, and more–every time you need to make that choice.
Invoice Matching - Organizations may use procure-to-pay software to confirm product receipt and collect invoice data. Approve invoices, handle exceptions, match POs, and integrate with electronic payments or account payable systems are all options available to businesses.
Insights Into Purchasing - Reports and reviews are one of the best aspects of going digital for procurement because they help you understand what's working and which processes are inefficient and costing you money. It's important to have process transparency and insight into each process, from purchase requests to invoice approvals, since procurement is a spend-heavy department. Custom reports and analytics allow you to quickly check the status of any job, evaluate vendor performance metrics, and more.
Key Benefits of A World Class Procure To Pay Process
Speed and Scale - Purchasing products and services for your business should take up as little of your time and money as possible. Something is wrong if making a purchase order takes longer than a few minutes. You can say goodbye to week-long buying periods with world-class procure-to-pay systems.
Transparency - You need full insight into the dollars flowing out of your business to get a handle on your expenses. The aim of the exercise is defeated if you and your team spend an entire day or more collecting monthly expense information. You'll be pleased to have access to buying details, reports, and other information around your organization once you update the procure-to-pay processes.
Democratization - Do you have a procure-to-pay method that feels like it belongs in the nineteenth century? Do your business users get frustrated and tired every time they need to send a requisition to have something ordered? For the workers, a world-class procure-to-pay operation would sound like a breath of fresh air of democratization.
Challenges With Traditional Procure To Pay Process
Communication Challenges - Multiple parties are involved in the procure-to-pay cycle, including requisitioners, approvers, buying managers, suppliers, and accounts payable employees. For the procure-to-pay cycle to be completed on time and smoothly, coordination between all of these individuals must be seamless and prompt. Different stakeholders remain siloed in the absence of a sophisticated cloud-based tool, forcing them to rely on phone calls and emails to 'get things done.' Such methods of communication result in the loss of vital information and transparency.
Compliance Challenges - The entire procure-to-pay cycle entails a 'value' exchange between the seller and the company. This is a monetary and objective value. As a result, procure-to-pay systems are extremely susceptible to fraud and unethical conduct. The business loses money through the cracks if all record level data, financials, units of products and services ordered, and so on are not monitored, cross-verified, or confirmed. And this may go unnoticed. As a result, you'll need to keep track of documentation at every stage in a centralized, organized, and consistent manner that's easy to find and understand. This necessitates the use of a basic SaaS-based user interface.
Cost Challenges - For companies, time is money. The earlier your business gets its ideas and goods to market, the more money it makes. As a result, your procure-to-pay system serves as vital infrastructure for your company. (When you buy quickly, you must sell quickly.) However, without world-class procure-to-pay solutions, even the most mission-critical projects will fall behind schedule. This establishes a strong argument for procure-to-pay transformation.
Finally, one of the most business-critical infrastructure stacks is the procure-to-pay solution. It is also the one that affects every feature – as well as a large portion of your workforce. Furthermore, it includes suppliers in addition to your business. It's no surprise that it's one of the most difficult aspects of the company to turn. There's also the issue of widespread adoption to consider. There are also a variety of business processes to integrate with, as well as a variety of business rules and procedures to implement. However, we have the resources and advances in artificial intelligence to address all of these issues, and the procure-to-pay feature is ready for the twenty-first century. At WeP Solutions, we ensure your growth while imprinting your business with chunks of innovative ideas and solutions that will result in higher revenue generation.
Click here to know more about our extensive line of services.
Recent Post