Streamline Your Procurement Process with Procure-to-Pay Solutions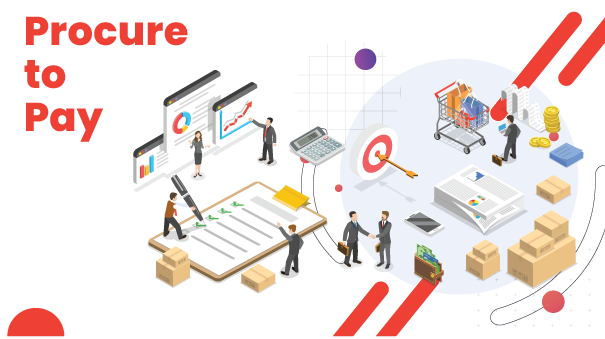 Understanding Traditional Procurement Process
The procurement process is the series of steps taken to procure any goods or services from an external vendor. Procurement is an exhaustive process that essentially includes shortlisting vendors, requesting the order, negotiating price, purchase order, and compliance.
The procurement lifecycle is time-consuming and requires effort and money to complete. For example, if a business is required to stock some goods, it needs to go through series of internal procedures and approvals. After receiving all approvals, the business can finally purchase its inventory.
The traditional procurement system is manual, which can be very expensive, time-consuming, and cumbersome.

Disadvantages of Manual Procurement Process
It is known that well-defined procure-to-pay process steps directly impact your effort and savings. In 2018, a survey conducted by Zyncus revealed that 54% of organizations want savings to be their priority. That is almost half of the organizations who want to do away with unsolicited expenses that arise due to the manual procurement process and absence of a procure-to-pay solution. It has been recognized that apart from controlling expenses, the payment processing software can enhance the vendor relationship, help stay compliant, and mitigate risks.
The manual procurement process has the following adverse effects on your business:
▪ Cannot assess vendor's performance: Due to the manual process and hard copies of documents involved, it becomes impossible to assess vendor performance.
▪ Cannot conduct periodic analysis: Conducting periodic analyses of procurements prevents risks related to costs, contracts, inventory, quality of goods, and operations. This is not possible with the manual process.
▪ Cannot find a preferred vendor: An effective procurement process can help to choose a vendor best suited for your procurement needs – one who can provide quality goods/services at the best prices.
Hence, by introducing an effective procure to pay software, organizations can optimize and save throughout the stages of the supply chain process.

Understanding Procure-to-Pay Solution and Its Benefits
Procure to Pay also (P2P) is the process used in a business to procure materials. It typically involves the requirement planning, request for quotation, creation of purchase order, preparing a receipt for goods, invoice for payment, payment, and finally make a report out of the process.
From order requisition to the final purchase, the P2P process utilizes 3 P's to ensure efficient execution, which are as follows:
▪ People: Various people need to be involved in every step of the procurement process. These people are decision-makers who determine the risks involved throughout the procurement cycle, for example, human resources, finance, and operations.
▪ Process: The process of procuring goods must include checkpoints throughout the process for quality checks. Any errors in the process may result in the delay of the vendor's payment, which can further affect the vendor-distributor relationship.
▪ Paperwork: For compliance purposes, organizations must have the necessary reports and paperwork throughout the procurement cycle.

A few main benefits of having P2P software are as follows:
▪ Cost reduction
▪ Save employee's time
▪ Customizable and configurable process
▪ Minimizing human errors

How WeP Solutions is Helping Businesses to Create Robust & Efficient P2P Solutions?
WeP Solutions helps businesses in optimizing their P2P process lifecycle by eliminating inefficiencies and lags throughout the process – the process that flows like an uninterrupted water stream. WeP's procure-to-pay solution is built on their Document Management System (DMS) that provides a boost like no other solution in the market. While the procure-to-pay solution is fully customizable and configurable to set the tone of your business objectives, it also gets benefited from the powerful and state-of-the-art capabilities of the DMS system.
There are many advantages of using WeP's P2P solution, including the following:
▪ Implemented on-premise or cloud.
▪ Fully integrate with your existing ERP system.
▪ Centralized repository to store and manage all documents related to the P2P cycle.
▪ Store and search documents with the help of Metadata.
▪ View documents in the browser without the need for any native software.
▪ Consolidated vendors quote in a single screen for efficient decision-making.
▪ Set proactive budget restrictions.
▪ Automated 3-way matching.
▪ Control share permissions to allow/restrict recipients to download or share further.
▪ Audit trail to track the entire procurement cycle.
▪ Approval on the go.
▪ Custom report and dashboard to show insights on your expenses.
▪ Completely configurable as per your needs.
The above state-of-the-art capabilities make WeP's P2P solution a preferred choice in the market and many large and small-medium organizations are successfully using it for many years. What makes WeP's solution more desirable is its post-sales support.
Some of their differentiator concerning its solution and post-sales support are as follows:
▪ Speed of implementation: WeP implemented the solution at India's largest rubber manufacturing company and made them go live in just 30 days.
▪ 50% faster change request implementations: This is done through drag & drop workflows and Low code platform.
▪ The quick turnaround time to fix bugs and implement feature updates.
▪ The solution is fully configurable and can be customized to meet your desired flow and design.
Experts in P2P Solution Implementation
WeP has been one of the market leaders in P2P solutions for many years now. Their experience working through the complex procurement cycles of various large-sized organizations is noteworthy while selecting your procure to pay software. Due to their vast experience, they have an exhaustive list of procure-to-pay best practices which can considerably shorten the implementation time and minimize the chances of implementation errors.
The important question is whether a P2P solution can reduce your requisition-to-purchase order cycle time? Yes, WeP has done it through its solution for many top organizations.
There are many reasons and differentiators about WeP's solution we have discussed above that set them apart from the rest. Apart from their robust solution, the ease of doing business and responsiveness are major reasons that big logos have stuck to their solutions for many years. WeP Procure to Pay Solution.
Recent Post