Steps & Benefits of Procurement through Procure to Pay software solution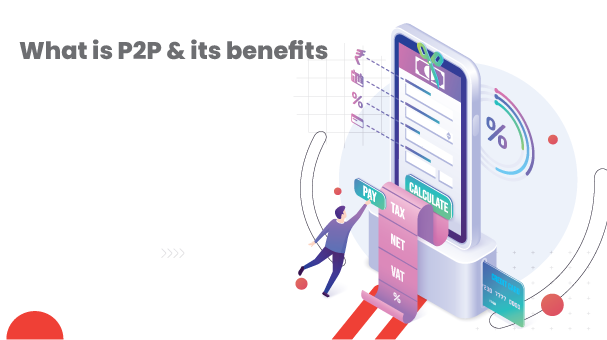 What is Procure to Pay?
At its most strict level, this is the cycle whereby demand is made, a request is put in and, when the request is gotten, installment is made dependent on a receipt from the provider.

What procure to pay (or P2P) really alludes to is a mechanized framework that incorporates acquirement with creditor liabilities to smooth out the interaction, guarantee precision & make efficiencies in cost & time.

In simple words, we can tell it is an automated process where the integration of procurement is done with accounts payable which enables the process to get streamlined with accuracy & create efficiencies in time & money.

Different steps in Procure to Pay :
Purchase Requisition: Once the need for a specific product or service is identified and finalized by the management, the request goes to the procurement department where the P2P process initiates.
Purchase Order: First the Procurement department will underdo the Screening Process where they will finalize the desired supplier that will be supplying them, followed by creating a purchase order that is automatically routed for approval and transmitted to the supplier.
Receipt of Goods & Services: Upon the Goods or Services provided, the Supplier will send the invoice to the accounts payable department where the Procurement will enter the details in the system.
e-Invoicing: The supplier sends the Electronic invoice to the accounts payable through the Portal that is a part of P2P.
Approval Workflow: With an automated P2P solution, invoices pass through 2, 3-way approval & sent to organization ERP for Payment. Workflow help in verifying the process, say invoice submitted has no signature & rejected will go straight to the supplier with a reason stating that signature is missing. If all things are right, it will pass all the approval & go straight to ERP for Payment.
Payment: It is the last process where the Payment is made electronically and the receipt or payment advice is shared with the customer in the portal which will stay as a document.
Key Benefits of Procure to Pay :
Streamline the Procurement Process: It provides connectivity between the organization which helps in streamlining the process and can easily find the work where is it is pending.
Reduces invoice Processing: By going paperless and storing the e-Invoice in the System for future reference, it not only saves paper but time and energy involved in it.
Visibility: With the automated P2P Process, buyers and suppliers get 100% visibility throughout the supply chain viewing the Invoice status on a real-time basis.
Relationship Improvement: By utilizing the Supplier Portal, suppliers can know when they are going to receive the payment and it gives them better decision making.
Data for Decision Making: Robust P2P solutions offer robust on-demand reporting capabilities. By using real-time and historical data provided, companies can gain greater control over cash flow and working capital.
Recent Post