Role of Management of Change in Pharmaceutical Industries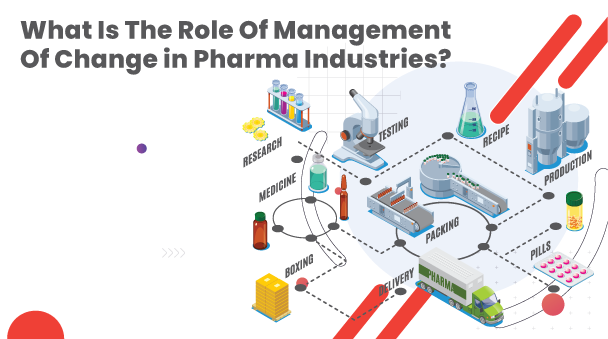 Organizations go through drastic changes in their entire business lifecycle, some of which are fundamental for business continuity. It may be a major expansion plan, the addition of a new product line, parting away with a business unit or product, etc. What's important is how the organization and employees perceive the changes.
Pharmaceutical industries have witnessed major changes in recent times, especially after the Covid-19 struck. There was a huge surge in demands for various medications that evidenced change in operations. Let's see what Management of Change viz. what change control is and its role in the pharma industry.

What is Management of Change?
The process adopted by the organizations when they are in transition is known as Management of Change. The transition may happen due to the adoption of new software and technologies like process automation software, adoption of a new business model, or a major business expansion.

Major changes that the Pharma Industry is witnessing
Here's a quick look into major changes that the pharma sector is witnessing:

Digital Transformation: Over the years, manual processes have become the norm for operations. However, digitalization is taking over manual processes. Most of the paperwork is getting done away with technology and software in data storage and management, thus making processes more efficient and compliant with the organization's standard operating procedures.
Artificial Intelligence: Artificial Intelligence can target the core workflows of the pharma industry and harness the untapped potential, especially in the Research and Development wing. AI streamlines the drug discovery process and can shorten it. By finding patterns and providing key observations from large datasets, they can solve complications associated with various biological processes. This is especially beneficial for discovering the best potential drug for a specified disease.
Precision Medicine: Precision medicine is an emerging treatment gaining momentum in the pharma sector. It uses the information about a person, his genes, reactions, and lifestyle to prevent, treat and diagnose particular diseases. It has evidenced higher effectiveness among the patients.
Cloud Technology: Cloud is taking over conventional storage devices. When it comes to the cloud, it's not only about storage but also about portability, remote accessibility, integrity, security, and much more. It enables pharma to partner and tie-up with multiple stakeholders, thus channeling the organization's growth.
R&D: Many pharma giants are increasing their focus on the research and development of their organizations. While R&D as a process is key, the methodology has been changing over the years. As discussed earlier, AI is integrated with R&D to provide better and faster results and lower down the turnaround time.
Why is Management of Change Important?
The only thing constant in this world is 'change'. Organizations that are ready to adopt change grow and flourish in the long run. There is no exception to this principle. As stated above, the pharma sector is witnessing major changes in the way they research and operate. Therefore, it's becoming increasingly important for organizational leaders to have the support of their workforce and stakeholders. The importance of the change management process can be highlighted as follows:

Preparing the organization for the future: it is only when the organization adapts to the change that it survives and thrives. In this era of cut-throat competition, even the pharma industries need to up the pace in their developments and offerings to breakthrough in the industry.
Scaling up the skills of your workforce: The skillset of your workforce enhances when they adapt to newer trends and changes. Most of the industry changes are directed towards automating the monotonous tasks that employees perform, leading to decreased productivity. Imagine the best brains being busy in the daily operations and procedural aspects; so much so that they find no time in brain storing ideas and research. An organization with a flattened growth chart will soon be overtaken by an organization with better tools to perform redundant tasks while freeing up its workforce to do more productive tasks.
Escalate Resilience: Organizations often find themselves in turbulent times. Resilience to such adverse happenings is what the organizations need to develop. Adapting and management of changes add resilience to the organization. For instance, if an organization does not integrate AI for research and development, it will be left far behind the organizations that are performing better in terms of speed, quality, and analytics just because of AI.
What WeP Offers?
WeP Digital comes with a dedicated business process automation tool for change management processes that helps in automating the whole process and magnifying its outcomes. Here is how WeP can help you with your change process:

Customize and configure the workflows: WeP can help make the change management process a cakewalk for the organizations by offering them an option to customize and configure their change management process flow. They can even create customized forms and checklists for various stakeholders.
Simplifying the operational changes: Organizations can maintain a centralized record for changes and approvals. These changes can be controlled through approvals and integrated checklists. Sharing documents relating to change can be done through the software itself, and administering roles has become easier than before.
Visibility throughout Organization: Organizations can keep track of the implementation of changes through organization-wide visibility with centralized change management. An automated email trigger for missed deadlines and milestones reduces the burden on higher authorities for a prompt response.
Effective Communication: Effective communication is the key for change to be accepted from higher management to subordinate levels. Employees need to be communicated about the changes, new policies and procedures, and the importance of their participation in the entire process. This can only be done if the organization maintains transparent and fluent communication within the organization.
Change is amicable, and the organization that adapts and manages the change in the best possible way thrives. The adaptation to newer technologies by the pharma companies is key to preserving humanity, and this adaptation can be effortless with the right tools in place.

Recent Post