Managed Print Services and its Ecosystem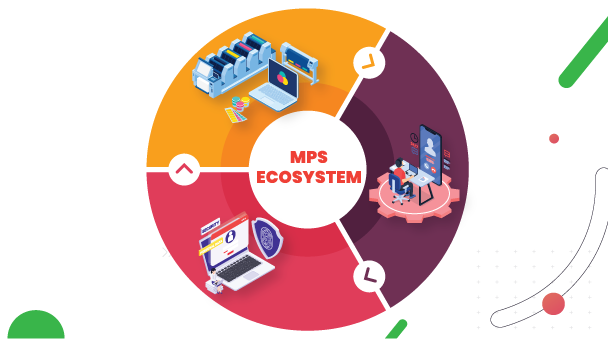 Printing is an omnipresent function in most enterprises with usage across payroll, document and record management, invoicing, etc. However, there are various approaches with which businesses approach printing, and these affect costs, efficiency, effectiveness, and access which ultimately impact the bottom line and productivity.
While enterprises have traditionally opted to buy their printing equipment, there are inherent limitations to this approach. These include high capital and operating expenditures and lower utilization of printing machinery. An enterprise depends on a vast network of printers, copiers, scanners, and fax machines, and owning these devices can quickly become a challenge to manage. In case of breakdowns and malfunctions, an enterprise also incurs high maintenance and servicing costs, in addition to disruptions to employee productivity and bottlenecks on other devices. Additionally, most enterprises do not track how much a single printed page costs them. According to Gartner, about 90% of enterprises do not track their printing costs, which is surprising given that printing can sometimes account for the third-highest expense after rent and payroll!

When managing the printing requirements for an enterprise, one often needs to consider multiple tenets apart from the printing equipment such as multifunction printers, copiers, scanners, and fax machines. It also includes elements that enable the end-to-end printing experience, such as:

Supplies including paper, ink, toner, and other consumables.
Materials sent out for printing, mailing, offset printing, and distribution.
IT helpdesk support, maintenance, printing equipment servicing, and equipment change requests.
An end-to-end solution to enterprise printing requirements
Effectively managing the printing process and equipment is crucial to minimize the impact on productivity and net margins. This is where Managed Print Services (MPS) can help enterprises. These are services offered by an external service provider to manage or optimize an enterprise's document output. Outsourcing printing services to an MPS provider reduces the operating and capital expenditure and provides enterprises with a means to scale up or scale down their printing requirements based on future priorities. An increasing number of enterprises are opting for MPS due to the uptick in digitization and growing familiarity with -as-a-Service constructs.
The MPS provider offers not just the printing equipment on a rental or a pay-per-use basis but also a host of other value-added services and solutions, such as:-
The MPS provider first conducts a thorough assessment to figure out the enterprise's requirement for printing infrastructure.
Next, they craft a strategy to optimize the number and types of printing equipment and supplies required to meet the needs of the enterprise.
Once installed, the MPS provider monitors, manages, and optimizes the total print output environment, independent of the brand of the printer.
The MPS provider also proactively identifies and solves potential printing problems and proactively replenishes the printing supplies before any impact on productivity.
The provider continuously monitors the enterprises' print environment and uses continuous process improvement to save time and money, reducing its carbon footprint by printing fewer copies, consuming less energy, and generating fewer greenhouse gases.
The MPS provider also offers solutions that enable telecommuters and mobile workers to access printing facilities easily and securely.
Finally, the provider can also train the enterprise's employees for a smooth transition to know usage guidelines and policies.


The MPS ecosystem
The MPS landscape includes various stakeholders, which include:

Printer/copier manufacturers: These vendors' programs are generally tied to their product offerings, although multi-vendor support is often available. Service offerings include assessment, design, implementation, and support services. They may also offer MPS programs via their resellers. Vendors in this category include Canon, HP Inc., Kyocera, Konica Minolta, Lexmark, Ricoh, Sharp, Toshiba, and Xerox.
Systems integrators/resellers: Resellers serve as an additional channel to market for some printer and copier vendors and may offer MPS as part of a broader managed IT services offering.
Independent software vendors (ISVs): These provide software tools for use in the print environment. MPS providers often use such third-party products to add value to a particular element of their MPS portfolio. ISVs include Nuance, Print Audit, ECi FM Audit, PrintFleet, Ringdale, UniPrint, and YSoft, which offer print management and secure printing products.
Benefits of an MPS approach to printing
MPS providers offer an end-to-end printing experience which eases the burden on the enterprise stakeholders. There are several key benefits of outsourcing your requirements to an MPS provider, which include:

Optimized spend: The MPS provider has expert knowledge in printer fleet consolidation techniques to ensure your enterprise deploys the required equipment at an affordable price after considering all aspects of your printing needs.
Improved efficiency: The MPS provider ensures printer placement in the most accessible areas to maximize device utilization and reduce employee waiting time.
Automated supply ordering: The MPS provider continuously monitors toner and ink requirements and proactively places the refill orders when supplies run low, ensuring a disruption-free work environment.
Improved predictability: The MPS program provides a single cost structure after consolidating device rents, maintenance charges, and supply requirements, eliminating any surprise maintenance or printing costs.
Enable remote printing: An MPS provider can help set up the network and infrastructure for allowing employees to give print commands from off-site locations and any device, thus eliminating the need to be present in office locations for printing requirements.
Improved security: Enterprises often require confidentiality and controlled access to documents and printing equipment. An MPS provider can help implement printing security software to reduce vulnerability and add a level of protection to the enterprise's printing requirements.
WeP - The pioneer in MPS in India If you are considering an MPS provider for your printing needs, look no further than WeP Solutions Limited, a pioneer in providing MPS to corporations in India. WeP introduced the concept of MPS in India, and today, it is the leading provider of MPS services in the Indian market. WeP is servicing more than 500 happy clients in 2000 locations spread across India. Leading brands engaged with WeP include Aditya Birla Group, Nerolac, Hyundai, IDBI Bank, and Tata AIG Health Insurance.

With WeP MPS services, clients can save up to 29% on their printing costs. It provides printing equipment to the customer's premises with a fixed monthly rental and pays per usage. Clients also can set up a secure printing environment for secure printing, scanning, and copying. Finally, clients can opt for a cloud printing solution to enable employees to print their documents anytime and from anywhere. To get started on your MPS journey, Click Here for more information and contact us to start the conversation.

Recent Post