Low code Development: The Future of Coding?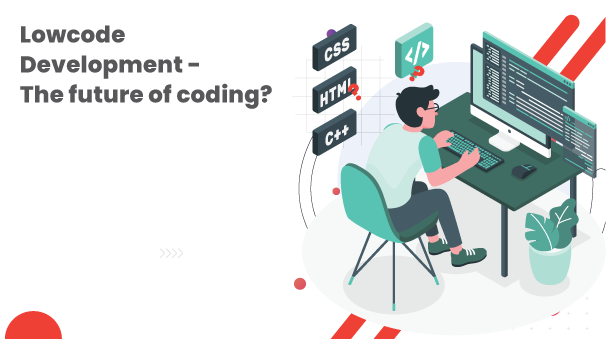 Technology has always granted a critical competitive edge to businesses to create better value for their customers. Organizations that partnered with the right IT solution providers, or developed internal IT competencies, managed to maintain strong positions in their respective industries. The need to go digital has only intensified, and businesses are becoming increasingly aware of the need for customized software solutions.
While this continues to be a costly endeavor with traditional development platforms, with low code development, customer technological innovations are well within the reach of all organizations. Irrespective of their business model, workflow, and specific automation needs, every company can adopt low code development platforms and tools for seamless business process automation.

But what exactly is low code, and how is it challenging the existing software development norms?

Low Code Development
Low code is a software development approach that allows users to build their own apps without having any coding or app development experience. Low code platforms or tools come with user-friendly, drag-and-drop functionality that can be used to select, stack, and integrate pre-built code templates. Often, the interface is graphic and much easier to understand than the conventional, hand-coded programming platforms.

Depending on the specific business needs, an application objective and workflow logic can be developed. Then, with this logic, a selection of boiler-plate code that is already available in a low-code environment can be stacked together to form a fully/partially operational application. Businesses can create multiple applications on the same platform with varied functionalities and establish a network within which these applications can interact with each other.

The achieved workflow automation thus paves the way for strategic business process automation while allowing organizations to maintain a strong customer focus.

Advantages of Low Code
In addition to being a thoroughly business-friendly option for software and app development, low code also has some other incredible advantages.

Rapid Prototyping and Development:
Even if a business is not ready to use low code apps for customer-facing functions, these can very well be used for prototyping, testing, and developing enterprise-grade apps for internal usage. With low-code platforms, even non-coders can participate in the app development process, significantly reducing the understanding gap between the business and tech side of the operation. This in turn can accelerate the entire process and support rapid iterations before a viable version of the app can be developed.

There is no need for sophisticated coding software or special infrastructure to support app development with low code environments. Furthermore, with minimal training, users with no technological background but relevant business needs can start building their own apps. This in turn means that with low code development, the overall cost of app design, development, testing, and adoption goes down.

Even highly specific workflows to a particular job role or industry can be configured and automated using low code development. The building blocks of low code apps are pre-written codes that are stacked together to perform a particular function. Users can build stacks and achieve workflow automation however they require. The extent of customization is only limited by the codes available within the low code environment, which in fact keeps growing.

Low code apps can be built and rolled out in a few simple clicks. This allows businesses to build and test apps at a smaller scale and determine their effectiveness before scaling them up for enterprise-level usage. Since the underlying workflow and code stacks don't change, there is no additional coding intervention required to achieve scalability. At the same time, apps that fail to perform can be discarded after user testing at a small scale without really affecting the business.

Low code tools and platforms come with in-built data encryption and follow industry-best security protocols for data repositories and workflow platforms. Thus, even if the user doesn't have any particular concern for data security while developing a low code app, the inherent encryption ensures that the organization is not at risk. Furthermore, the security of a low code app can be easily strengthened with additional coding and encryption if the organization so desires.

Apps built in the same low code environment are much easier to integrate when compared to apps that are developed using different technologies or vendors. Several low code development platforms also offer custom APIs to facilitate such enterprise-level app integration and smoothen information flow. This is precisely what helps organizations achieve better customer and internal user experience without ending up with duplicate data that is impossible to reconcile.

What the Future Holds
With low code development presenting vast opportunities for business, it's still far from turning traditional development and coding obsolete. Enterprise users can build custom apps using available code stacks in different permutations and combinations. But if advanced code specifications or app functionalities are desired, additional coding becomes necessary.

Of course, as low code platforms will continue to evolve and newer code stacks will get added to existing tools; users will keep on enjoying more and more freedom from traditional coding programs. Eventually, a larger section of the workforce needs to be skilled to use low code tools for developing cloud-native and tailor-made apps to serve their purpose. If this happens, a substantial shift away from conventional coding can be very likely.

In conclusion, while going digital or adopting advanced enterprise-grade tech solutions was optional just a while ago, it became a necessity for every company in the post-pandemic world. The only way for organizations to accelerate their digital transformation and access custom technological solutions is by adopting low code development. With a low code capable workforce, organizations can strategically reduce their dependence on traditional coding platforms and optimize the way in which tech will enable their business.

To know more about WeP Low Code Platform CLICK HERE!
Recent Post