How Ricoh Asia Pacific and WeP are Working Together to Meet the Growing Printing Needs of Digital Natives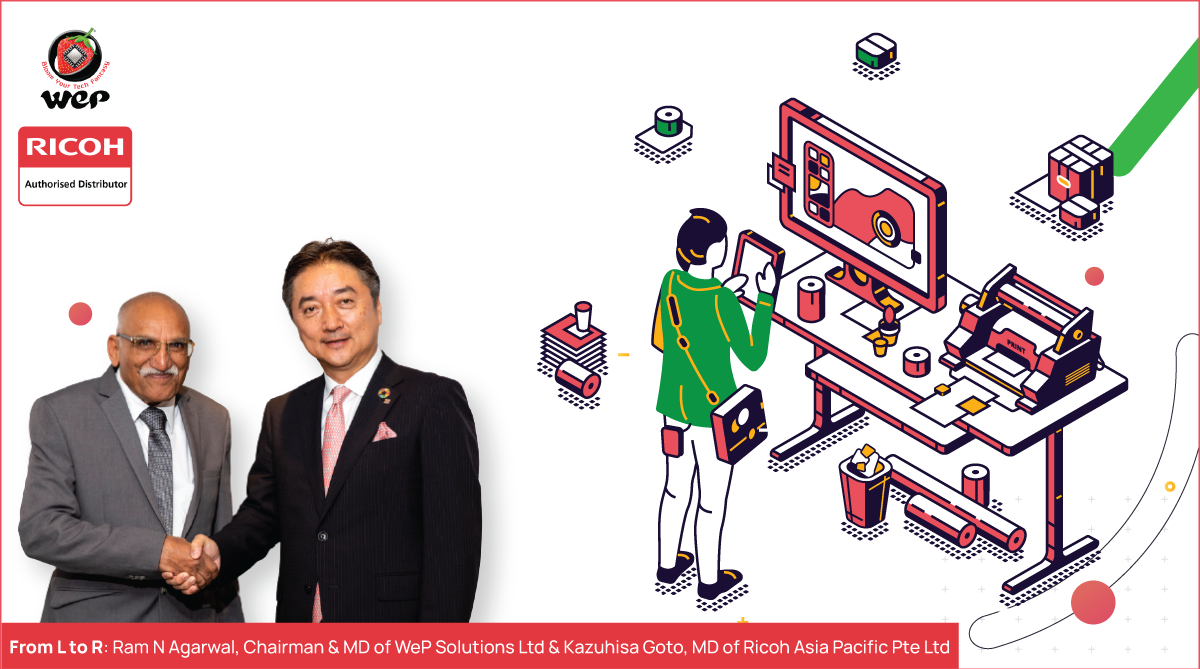 Digital natives are moving into the corporate world with more high-tech expectations. They want high-performance technology in their workdays that mirrors the connectedness they have in their personal lives. When there are more and more people printing, businesses will have to change and become more responsive to this kind of technology. It's important for businesses to have a "intelligent" multifunction printer in this day and age. A company can't rely on standard printers when it needs to print on a large scale or in a complicated way. Having a secure and up-to-date printing infrastructure in your business is more important now than ever. This infrastructure should be able to provide high-quality printing while also giving your employees a better experience.
Ricoh and the WeP Partnership
In November 2019, WeP and Ricoh signed a distributorship agreement to serve corporate printing needs. Their mission is to provide cutting-edge multifunction printers and printing solutions to the digital printing sector across the nation.

WeP Solutions is a renowned, BSE-listed company in India featuring three core business segments: digital, retail, and MPS (Managed Printing Services). The given three business segments tend to operate in distinct domains while reaching out to different sets of customers.

WeP, the country's pioneering MPS (Managed Print Service) provider, has now become the first-ever Ricoh authorised dealer for printers across India. WeP brings forth its over two decades of relevant expertise in the field of MPSs in India for selling and servicing Ricoh products that aim to empower businesses towards working smarter and being more productive, contributing to the overall growth of businesses in the country.

Ultimately, it is anticipated that this partnership will supply businesses with cost-effective printing and automation solutions that will help organisations of all kinds and types in the long term. The ultimate objective is to give digital workplaces more control.

An Insight into the Revolutionary Ricoh Printing Technology
Ricoh sets a benchmark when it comes to revolutionising printing technology. Ricoh printers are renowned across the world for their top-notch printing quality, versatility, graphic capabilities, capacity, and speed. The Ricoh printer product line is immensely diverse, offering everything from standard desktop printers to multi-purpose, feature-rich printing devices. Due to its state-of-the-art printing technology, Ricoh has become a world-leader in producing an innovative range of printers, with board operations across 200 countries.

Intelligent Multi-function (IM Series) Printing Technology by Ricoh
Ricoh's latest IM series printers incorporate innovative printing technologies for enabling digital environments and meeting the demands of digital natives in the workplace. The series comes equipped with a comprehensive range of cutting-edge features for improving the overall printing performance. Moreover, it also delivers unmatched security directly to computer folders or emails over mobile devices or networks. The smart IM series of printers by Ricoh has also been designed to support modern businesses in high-end transactions with their overall ease of use and optimal security.

Some top-class features of the innovative IM series of printers by Ricoh are:-
RICOH Always Current Technology: Always Current Technology promotes device health and longevity. It's a pledge to keep the device updated for a longer period of time. Periodic releases allow clients to get new features, firmware upgrades, security updates, and UI improvements. Updates will be available for years beyond the initial MFP release date, allowing the device to work and appear like a more current model, ensuring fleet uniformity.
International font support: This capability allows multinational or worldwide organisations to translate and print papers for local markets.
Ricoh Intelligent Support: This feature allows you to quickly access web help tools. This assists clients with operations like toner replacement, paper jams, and other support issues. A consistent user interface throughout the Ricoh series ensures the best experience everywhere. Ricoh has Predictive Upkeep. This means that total gadget performance is monitored to reduce overall workplace effects.
How-to-Videos: Accessible through the Smart Operation Panel, this video collection contains tutorials and self-help videos for users who need rapid information or assistance with MFP features and operations.
Workflow Efficiency: Users can tailor settings to ensure quick access to apps. The new range of small-sized paper-based scanning units in the new series allows the scanning of even smaller documents conveniently. Moreover, there is the presence of an expanded paper tray capacity that enables you to work efficiently.
Smart Operational Panel: New features and additions include a bezel-less flat screen, a Near Field Communication (NFC) tag built into the panel, and an improved user experience. The new Smart Operation Panel has a higher tilt angle of 65 degrees compared to 45 degrees in the earlier devices, thus making these devices more pleasant to operate for any user.
User-friendly Printing Technology by Ricoh
The most advanced technology in the world will be worthless if the employees or consumers are unable to make effective use of it. With the Ricoh printer series, you can quickly and simply access the entire range of device capabilities thanks to the Smart Operation Panel, which is designed to be user-friendly.

The Smart Operation Panel of Ricoh's latest printer series has a touch interface that mirrors current smart gadgets. So, it's intuitive and familiar. The Ricoh Smart Operation Panel series provides a seamless user experience across Ricoh devices. Once understood, users can effortlessly operate all Ricoh equipment.

There is also the option of customising the panel with the help of the company logo and personalising it by the end users themselves, delivering instant access to functions that are frequently used.

WeP Solutions Limited is the authorised Ricoh dealer in India to sell and service Ricoh products. The WeP group of companies, with a group turnover of over INR 622.07 million (USD 8.31 million), has constantly evolved and reinvented itself. WeP Solutions is committed to getting to the Indian market the latest in printing solutions. It is a partner that you can trust with all your printing needs. It is a leader in the digital printing space and has consistently brought to the Indian market new disruptive products.

To find out more about Ricoh's latest IM series printers, connect with us here!

Recent Post