How does the WeP Employee Record Management System helps manage staff records?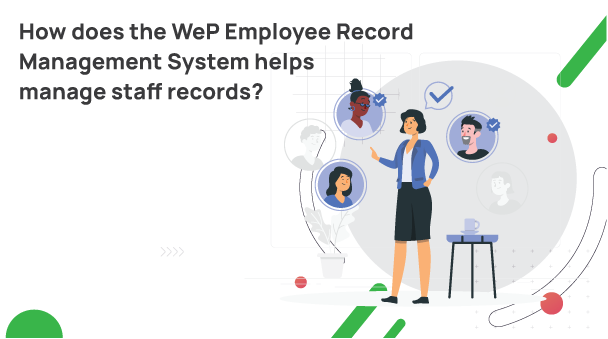 Maintaining correct and up-to-date employment data is essential for every business. It enables companies to better understand their current and past employees' information and obtain all relevant data for legal and auditing purposes. To efficiently carry out day-to-day tasks, all federal, state, and local government agencies and public and private organizations use an employee file management system to maintain personnel information.
How to Keep Employee Records Organized?
A manual accounting system is a conventional method of keeping personnel records. In this method, you construct an employee diary with detailed page-by-page recordings of each employee. This paper-based employee record management software contains all the personal and professional information gathered during the employment process, such as an address, phone number, company department, start date, leave, and payroll activities. However, because HR personnel must regularly update the paperwork during each employee's stay, this employee record-keeping system is challenging to administer.

Because these documents may become long and inconvenient, most organizations now prefer electronic solutions. Dealing with data compliance, auditing, and legal concerns is tricky, especially when you are dependent on a manual employee file management system. In the digital method, electronic records save data for simple access, updating, and sharing.

It is straightforward to maintain and keep track of a database of records. The employee record management software system is typically an electronic record-keeping system designed to maintain and automate personnel records. HR experts may use the employee file management system to build organizational policies.

How do you create a modern employee database management system?
Gone are the days when HR had to haul about huge folders and files and comb through a million documents to find a single record. Various Human Resource Information Systems (HRIS) now provide instant access to many personnel data. What matters is that you create a hyper-extensible personnel records system that meets your company's needs.

Here are some elements to consider while creating an advanced personnel record system:

Employee empowerment through self-service functionality.
A detailed personnel profile is available, and a picture of the organization's structure.
Signature and storage of electronic documents.
Social Feeds provide networking features.
Smart alerts (by email and mobile) and calendar sync ensure that workflows and tasks are constantly updated.
Configurability refers to the ability for users to create custom fields or tags, modify access and permissions, and upload people in bulk with a single click by importing a spreadsheet containing all user information.
With a single database, you may maintain several personnel records in different places without worrying about redundancy.
There's a meager chance of losing data. It may be accomplished by storing data in the cloud.
Allowing your products to perform better by swiftly merging industry-leading software and bespoke apps is what seamless integrations are all about.
Employee Record Management System and How It Works
An employee record management system (ERMS), being an electronic filing program, aids HR professionals in recording and maintaining employee records and convenient tracking of data to ensure smooth operations. A personal biography, leave and attendance documents, medical history, income details, general performance, and much more are all included in these records. Such systems evaluate each employee's performance and assist in identifying their areas of strengths and development.

It guarantees that your staff performs to their best abilities to meet the organization's overall aims and goals. In a nutshell, employee record-keeping software performs a critical role in increasing workplace efficiency and productivity.

Key Advantages of Using Employee Record Management System
Following are the key advantages of using an employee record management system:

Performance Evaluations

One of the most significant advantages of a well-organized personnel records management system is that it gives a venue for performance assessments. Employers will track employee performance over time using a comprehensive records management system, providing proof for promotion or termination depending on that performance.

Plans of Action

Employers may use records management to establish action plans for increasing employee performance. Employee management software may create action plans for problematic employees, and their progress can be tracked more readily. Many records management systems allow for monitoring action plans, which may be updated as needed over time as the employee's performance improves or deteriorates.

Pay Revisions

Good record keeping can also give the documentation needed to make salary modifications for employees, resulting in higher employee satisfaction. Performance pay adjustments and the average cost of living adjustments can be found in records. Pay adjustments are an essential aspect of employee satisfaction and retention, and keeping accurate records will help you analyze when an employee is eligible for a raise or adjustment.
Display Patterns

Another advantage of efficient records administration is that companies can readily track performance patterns in their employees. It is instrumental in deciding whether or not a candidate is the best fit for a position. Pattern analysis may also help you recognize when a particular sector has too many or too few staff. Having a record of these tendencies might help justify hiring or firing decisions.

Give a reason for the termination

Finally, but most crucially, proper record keeping can give the rationale for a required termination. When a person isn't performing to their full potential, and action plans have failed, it may be time to recommend a different job within the organization or explore a complete departure. When it comes to terminating an employee, having a paper trail demonstrating their poor performance is critical and might help you avoid a wrongful termination claim.

If a dismissed employee takes legal action against the organization, having a complete and organized performance record might help the employer. Regular performance assessments, action plans, and well-documented records can all help prevent unfair dismissals. Good record keeping is an essential element of every organization, but it's necessary when you're in charge of a large (or even minor) team.

Conclusion
Managers must make well-informed judgments and use personnel record management systems to process the information that is created at a quick pace nowadays. It will also aid in complying with the ever-changing legality and admissibility laws. As employee data contains sensitive information, therefore, citing confidentiality, it is necessary to enhance security for the same. The employee records management software includes password protection, AES 256-Bit encryption as well as access control when sharing data to ensure all-round security.

WeP Solutions Ltd, for example, offers vital data protection and security in both on-premise as well as cloud-based options. Spine HR on-premise keeps your data safe inside the firewall, while secure data storage is ensured by the cloud.
Visit WeP Solutions to understand our services better.

Recent Post