How can e-Invoices help business Succeed?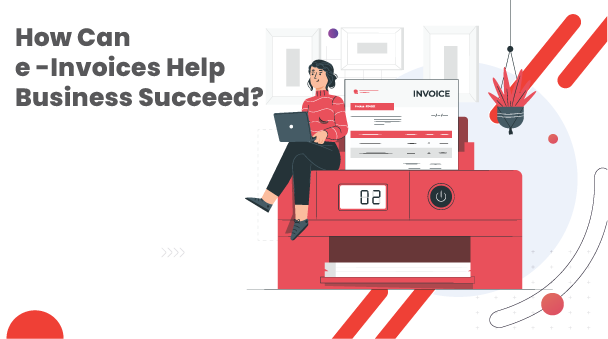 An electronic invoice is a digital document created, processed, and finalized entirely online without manual input from any employees. Processing orders and payments can be executed faster and with minimal delay by using e-invoices. It is undoubtedly the future of business transactions. Furthermore, e-invoice processing can direct employee focus to other departments where more attention is required.

What is an Invoice?
An invoice is the most important document when recording transactions of a business. It is the proof of a transaction between a buyer and a seller. It includes all information needed regarding products sold, date of transaction, payments made, and the mode of payment.

While earlier, the process of preparing an invoice was done by hand, now, more often than not, the invoices are prepared with the help of accounting software. Once the employees feed the software with basic information, the required invoice gets generated. The invoice is then printed and distributed to the parties as required.

An invoice is also needed to ensure that any additional charges on the transactions like freight, insurance, sales tax, and other items are recorded accurately. To pay correct taxes to the government, an accurate invoice is very helpful.

What is e-Invoicing?
Unlike a regular invoice generated through accounting software that needs at least some manual help from the employees, an e-Invoice is entirely automatic. Therefore, most organizations prefer switching to an e-Invoicing system over usual accounting software to automate all the invoices and record the correct details.

In automated invoicing, once an online order has been placed, an e-Invoice gets generated immediately. Then, the e-Invoice is sent to the buyer. They can directly make online, paperless payments to the seller based on the banking information provided on the invoice. Recipients can pay the amount due directly through debit and credit cards, direct bank transfers, or third-party systems like PayPal.

How Does e-Invoicing Offer Key Benefits to a Business?
e-Invoicing is a highly convenient method to get error-free information. However, with manual invoice preparation, there may be a margin of error relating to the input of information. This could be the number of products, rates, applying tax rates, giving the correct bank account numbers, bank codes, etc.

A business can significantly reduce its spending on printing and other expenses by using digital means to generate an invoice. On the other hand, creating multiple copies of invoices for sellers, buyers and delivery personnel increases general expenses. With e-Invoicing, it is straightforward to generate invoices, send them to the concerned parties, start the payment process and complete the transaction.

Another significant benefit of switching to an e-Invoicing system is the convenience it gives when calculating taxes. For example, Goods and Service Tax (GST) is levied on any business selling goods or even offering any service. With e-Invoicing, all the invoices can be collated digitally, and taxes can be calculated easily. In addition, the tax amount can be quickly paid online without printing out any documentation for the same.

What are the Advantages of e-Invoicing for a Business?
An effective e-Invoicing system is of utmost benefit to any business that uses it. Here are the distinct advantages it offers its users:

Paper invoices tend to inevitably get lost. Additionally, there could be delays in sending the invoices on time, thus delaying payments and delivery of goods. With e-Invoicing, there is no need to create copies. The digital invoice cannot be lost and, if needed, can be sent any number of times as needed.

e-Invoicing software provides businesses with automatic invoice processing and payment collection. There can be any number of invoice formats depending on the end recipient. Automating the invoicing process frees up employees to work or other essential tasks to succeed. In addition, there is no need for manual printing and distribution of invoices.

There is always a chance for errors when creating an invoice manually, even with the help of any accounting software. For example, a decimal wrongly placed could spell a massive loss for any business. By switching to e-Invoicing, companies can ensure error-free invoice processing while recording transactions and payments.

Green and environmentally-friendly business practices have become the norm as more companies become aware of the impact of paper wastage on the environment. They need to reduce paper in invoices and documents to preserve the ecosystem for future generations.

Improved Customer And Vendor Management
Businesses must create an effective method to deal with their vendors and buyers. e-Invoices can help transfer invoices between a business, its vendors and customers quickly. This ensures that approvals and payments can be processed quickly.

Once an invoice is sent by the vendors to the customers, it is on the recipient to pay the amount and clear all dues. With e-Invoicing, it becomes easier to manage payments effectively. Consequently, there is clear visibility about the inflow and outflow of cash, which can help better budgeting and forecasting for a business.

e-Invoicing notification from the Indian Government regarding e-Invoice applicability for Goods and Service Tax ensures that firms that generate sales over a particular value have to switch to e-Invoices over paper invoices. This ensures that corporations pay taxes on time without delay and errors. Furthermore, the e-Invoicing portal managed by the GST council helps in the payment and processing of GST quickly and accurately.

Conclusion
Going paperless by investing in effective e-Invoicing software is a cost-saving strategy for businesses, especially startups. e-Invoicing helps companies reduce costs and frees up funds to use in other departments.

In addition, globally, there is more awareness among people and organizations about the lifecycle of paper manufacturing and its harm to the environment. In conclusion, not only does e-Invoicing help reduce the financial burdens of any business, but it also helps protect the environment.

Recent Post