Enhance Your Printer Performance with Ricoh Genuine Supply by WeP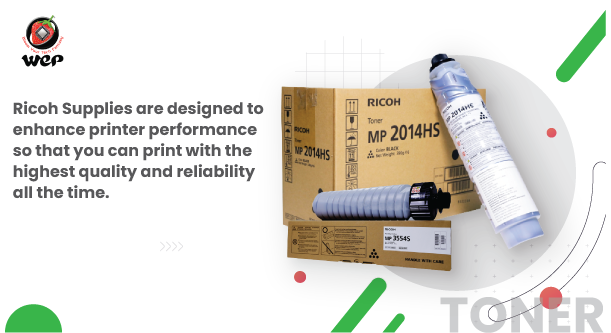 Since November 2019, Ricoh Asia Pacific Operations Limited (Ricoh) and WeP Solutions Limited, India, have partnered to supply original Ricoh products in India. The agreement conferred on WeP Solutions the right to sell Ricoh's product range in India. WeP Solutions is the Ricoh authorized dealer in India, also services all Ricoh's products sold in India. This arrangement positions WeP solutions, together with Ricoh, to cater to the needs of India's digital printing market.
Ricoh's product portfolio adds to the already existing product and services portfolio of WeP solutions. Ricoh's products and WeP's pre-existing portfolio enable WeP solutions to address the entirety of India's digital printing market as the Ricoh distributor in India. The market includes products for office automation and commercial and industrial printing.
WeP solutions hold a 30-year track record in this field in India. The Ricoh partnership provides a world-beating technological edge to WeP's already strong brand and market presence in India. The Indian digital printing market benefits by accessing Ricoh's latest printing technology through a reliable and trusted Indian partner.
The printing market in India has traditionally faced challenges of delivering on efficiency and cost-effectiveness. The WeP-Ricoh strategic partnership will help the Indian printing market leapfrog these challenges and meet the requirements and expectations of its customers.
About WeP Solutions Limited
WeP Solutions was formed from the erstwhile Wipro e-Peripherals in the year 2002. WeP Solutions is a publicly listed company on the Bombay Stock Exchange(BSE).
WeP Solutions is active in three business verticals - managed printing services (MPS), WeP retail, and WeP digital. The three verticals serve three different sets of customers in three separate domains. WeP MPS offers end-to-end digital printing solutions. WeP Solutions was the first firm to introduce managed printing services in India. Through WeP retail, the firm serves the MSME and the retail sector through its billing and business solutions. WeP digital offers enterprises solutions to help manage GST returns filing and document management.
As Ricoh dealers, WeP Solutions brings to the Indian printing market Ricoh's state-of-the-art technological solutions and services to empower modern, connected digital workplaces. Ricoh is an established global brand that designs, manufactures, and delivers document management solutions, communication services, commercial and industrial printing equipment, digital cameras, and other equipment for industrial systems.
Consumables for Ricoh printers
As Ricoh printer dealers, WeP Solutions supplies the entire range of high-quality, feature-laden multi-function printers and copiers. The multi-function machines cater to the customers' diverse needs – single function, multi-function, monochrome or color, and A3 or A4 sizes. WeP, through the Ricoh range of products, offers productivity-enhancing solutions for organizations of all sizes. WeP also helps enterprises customize their black & white or color copier with multiple options in speed, paper size, finishing, and features. WeP-Ricoh's complete range of printing solutions powered by smart technology offers the best image quality and the latest document-sharing tools to enhance business productivity.
Why buy original Ricoh toners for your printer?
Each Ricoh toner is backed with several hundreds of hours of testing and years of engineering and science. All Ricoh consumables are designed to provide customers with printing experiences that will amaze.
When you use a Ricoh toner, you can count on getting professional-quality documents every time. Your multi-function machines and computer printers will deliver consistently dependable performance, superior page yields, and eye-popping prints quality.
Ricoh supplied OEM consumables are the ideal choice for your Ricoh printers because:
They are designed, manufactured, and tested to perform consistently.
They provide quality prints.
They are the best choice for environmental protection. Ricoh OEM toners comply with Restriction of Hazardous Substances (ROHS) directives and meet the high standards to protect human health and the environment. They have been designed with the planet in mind for easy recycling and less waste.
Ricoh OEM toners are precisely matched with Ricoh printers to deliver the best prints and provide consistently high quality.
Ricoh OEM color toners provide sharp detail and vivid reproduction of images.
Paper jams, blotchy ink, and other printer problems adversely affect business productivity. Using a good quality OEM-produced toner is key to avoiding printer problems and extending the printer's life. Ricoh OEM toners are designed to extend the life of your printer while at the same time lowering overall long-term costs.
The toner cartridge's page yield is based on the ISO standard for measuring toner cartridge yields by printing out pages with 5% page coverage until the cartridge runs out. Although how long a printer cartridge lasts or the number of pages it prints - depends on what is printed, the consistently higher page yields of Ricoh OEM toner help minimize the carbon footprint.
Cost per Page or CPP is also an important parameter to be considered when looking at page yield. It defines how much will be spent on printer cartridges in the long run. WeP Solutions as the supplier of Ricoh OEM consumables will work with your enterprise to meet all your printing needs while also helping reduce cost and safeguarding the environment.
WeP Solutions Limited is the authorized dealer in India to supply OEM consumables for your Ricoh products. WeP group of companies with a group turnover of over INR 622.07 million (USD 8.31 million) has constantly evolved and reinvented itself.
WeP Solutions is committed to getting to the Indian market the latest in printing solutions. It is a partner that you can trust with all your printing needs. It is a leader in the digital printing space and has consistently brought to the Indian market new disruptive products.
To know more about Ricoh printer/consumable offerings connect with us here!
Recent Post