Empower Your Procurement Department to Function Smarter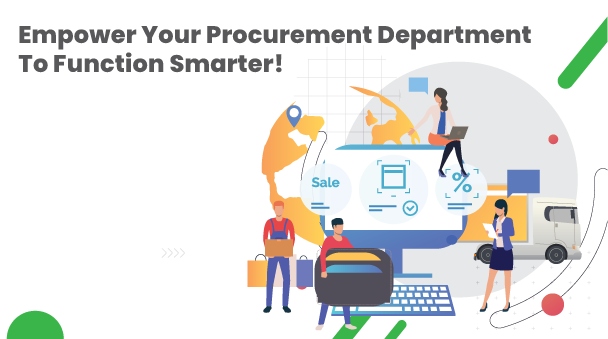 Procurement is one of the key functions of any business. The procurement function involves a range of tasks. Finding a suitable vendor is not the end but the starting of a series of tasks ranging from quality, inspection, negotiation, timely receipts and services, payments, etc. An inefficient procurement function could also be the reason for lower profit margins and even losses.
As per a report published by Chartered Institute of Procurement & Supply (CIPS), a UK-based leading global professional body in purchasing and supply professions, 84% of the businesses witnessed supplier failure over three years. More than 1/5th of buyers targeted supplier failure for loss of customer trust, higher insurance premiums, damaged reputation, and regulatory fines. This highlights the importance of procurement function in any organisation, as it directly affects the organisations' operations (back-end) and customer-facing centre (front-end).
Let's take a look at what a normal procurement process looks like.
The Procurement Process
A procurement process flows typically through the following steps:
Generation and dispatch of purchase request: This is usually sent by the production or manufacturing department, indicating the requirement of supplies for continued production.
Placing purchase order: The procurement department places a purchase order with the vendor.
Receipt of materials: The vendor supplies the required goods.
Quality checks: The organisation conducts quality checks of the supplies received and sends them for production.
Recording invoices: Invoices shall be recorded in the database booking purchase expense.
Payment: Payments are made to the vendors for supplies provided.
If this whole process is performed manually, the chances of errors increase manifold. So, a question arises as to how you can empower your procurement department to function smarter?
Automation is the Key!
A shift from a manual and redundant approach to automation is the key to a smarter procurement function. WeP digital with its procure-to-pay software solution is the answer. Some of the key tasks performed by this Procurement Management software include:
Procurement Management: Procurement management is akin to expense management. An organisation can benefit from its employee's productivity only if the employees are freed from mundane tasks. The best brains can't do wonders if they are engaged in monotonous, manual tasks. The entire procurement process can be automated, from order placement to payments.
Vendor Management Software: Cost-effective procurement can only be possible if the vendor information and offerings are comparable across various parameters from pricing to delivery, credit period, discount offerings, etc. Making informed vendor selection becomes a cakewalk with the right selection of software. The WeP procure to pay software solution acts as a vendor management software to create a centralised database of vendors that offer the required products, giving insights into expected delivery time, price, and past performance record of the vendor.
Digital Procurement: Procurement is no more a manual exercise with digital procurement software culminating the entire process in a few clicks. Generating and dispatching purchase requests, placing a purchase order, receiving goods and invoices; all can be automated, making it easy and convenient to handle.
Tracking: Track your procurement function to ensure it is error-free and displays accurate information. With multiple checks, you can ensure approvals for purchase requests as well as quality checks for receipt of goods. Placing multiple checks ensures accurate processing and detecting and correcting any mistake at the stage of its occurrence.
Payment Processing: Payments have become easier and more convenient to manage with automation taking over manual records. There is no need to have different software for procurement management and tracking vendor payments. WeP procurement management software allows users to select between manual and automated payment as per their preferences. Payments can be matched with the invoices, and transaction records can be stored centrally for future references.
Focus on What Matters!
By freeing manpower from the above monotonous tasks, you can focus on what matters for your organisational growth, i.e.;
Negotiating better terms with vendors
Price negotiations
Identifying growth opportunities
Cost-cutting and savings
Turning around less profitable businesses etc.
Benefits of WeP Procurement Management Software
While above were the services offered by the WeP Procurement management software, its benefits are numerous and far outweigh its cost. Its key benefits include:
Can be cloud-based or implemented on-premise
Track the entire procurement cycle through audit trail
A centralised repository for storage and management of all the documents in relation to the P2P cycle
Metadata enabled to search and store
Offerings and price of different vendors in a single screen for effective comparison and informed decision making
Can be integrated with your existing ERP system
Three-way automated matching On the go approval
Documents can be viewed in a browser without any native software
Restrict access and sharing through inbuilt controls and share permissions.
Enabling budget restrictions proactively.
Dedicated dashboard and customs reports provide insights into your expenses.
Configure the software as per your needs
Why WeP?
What differentiates WeP from the rest is the post-sales support. WeP successfully implemented the solution in one of India's largest manufacturing companies and went live with the solution within 30 days. WeP has been the market leader in providing various organisation solutions from vendor management, GST software, employee record management, workflow automation, and much more. With a quick turnaround time for fixing bugs and implementing updates, WeP ensures continuous availability of software for the organisation and uninterrupted workflow.
Bottom Line
Automating the procurement function is a great leap towards productivity. Shifting the paperwork compliance and procedures to digital procurement software also reduces the hassles throughout the procurement cycle. Another important aspect of your vendor-organisation relationship is timely payments. Therefore, proper checkpoints in the procurement cycle are necessary to avoid delays in completing the procurement cycle. Otherwise, it may hamper the relationship and attract an unnecessary levy of penal interest by the vendor organisation. Therefore, automate your procurement process and witness unmatched growth.
Recent Post