Digitally Managing Employee Records In 2021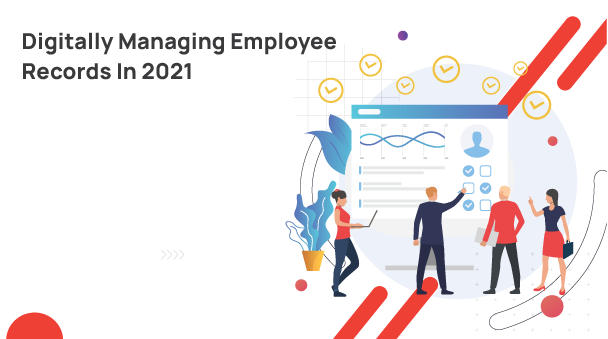 Employees who report receiving recognition and praise within the last seven days show increased productivity, get higher scores from customers, and have better safety records. They are just more engaged at work –Tom Rath
The above lines hold good for any organization. Appreciating employees for the hard work they put into your organization's growth machinery is paramount for the success of your organization. Thus, tracking your employee's performance and productivity becomes equally important to acknowledge and reward those who perform while motivating those who fall behind.

This is where employee record management comes into the picture. While the responsibility to effectively manage employee records is the responsibility of your HR, you can boost the efficacy and usefulness of such records with sophisticated employee record management software that forms part of your workflow management system.

What is Digital Employee Record Management?
In simple words, digital employee record management means managing and processing the employee information digitally that facilitates making informed decisions regarding recruitment, performance, promotion, and retention. A dedicated employee record management software is typically a business process automation software that helps an organization implement the above task.

Challenges of Manual Employee Record Management
Digital employee record management overcomes the challenges that conventional methods pose to HR and the organization. Some of the major challenges include:

Human Error: Manual employee record management increases the chances of human errors manifold. This leads to frustration and reduced productivity as your team has to perform tedious tasks of cross-checking and documentation. A huge chunk of your time gets wasted in rectifying the mistakes that otherwise could have been used for productive tasks.
Incorrect payroll calculations: Manual records management may lead to incorrect calculations. For instance, calculating employees' attendance is a part of the payroll process for every organization. In case of errors in calculation, the organization may end up paying more than what should have been paid to the employee, leading to increased costs for the organization. Apart from that, accurate overtime calculations can also be a cause of concern.
Tampering records: Security of employee records becomes important. Organizations usually have confidential information of employees like their identity details, including their phone numbers and addresses, banking details, etc. Maintaining confidential details manually, like in excel sheets, is prone to tampering by ill-intentioned persons. Chances of data getting corrupted also increase, proving expensive to the organization.


What's the Solution?
The solution lies in automating employee record management by inculcating employee file management systems in the organization. Such systems are document management solutions capable of resolving challenges posed by conventional record management systems. Let's have an in-depth understanding of the features of digital employee record management systems:

Easy access and retention: The access and retention of records become easy when the records go digital with automated software. A typical HR file management software can handle and retain loads of data easily and is capable of providing anytime-anywhere access to the records. This is possible due to the centralized storage of the records and advanced search capabilities.
Security: Your employee's data are safer with automated systems than in the case of manual record management. E-lockers to store data ensure that your records are password protected. When it comes to sharing your data with auditors or other concerned persons, it can be shared securely as such data is usually shared in encrypted form. In such cases, the chances of tampering are negligible.
Streamlined onboarding: Data collection becomes easier with less paperwork and handling and more soft copies coming to the picture. Even at the time of hiring, physical document collection can be done away with to ensure easy management and auto-notification in case of missing documents. This also provides handy access to documents to the HR through HR file management software thus, speeding up the recruitment process.
Reduced chances of data loss: Chances of data loss are reduced, thus avoiding chances of legal repercussions as most statutes confer a minimum period for which the data must be stored with the organization. This could have adverse consequences, especially during times of audit, as an organization simply cannot claim loss of data to escape from their responsibilities conferred under the statutes.
Reduced human errors: Chances of human errors get reduced with automation. Biometrics can replace manual attendance leading to auto-payroll calculation and reduced losses to the organization.
Tracking employee performance: Employee record management software can also provide insights into the employee's performance and thus help an organization acknowledge and reward those employees who performed outstandingly. Also, it opens the scope of improvement for those employees who lacked behind as they get a chance to introspect themselves when they know their performance stats. This creates a win-win situation for both employees as well as employers.
Suitable for remote working: Remote working is the new normal that most organizations adopted after the COVID-19 pandemic. This necessitated the need for document repository software for the organizations as the paperwork was done away in most cases, citing social distancing. What would be the better way to manage employee records than employee database management systems in play?


What's Your Organization Doing?
If you are still stuck with the conventional methods of employee record management, then it's time to re-evaluate your organization's requirements and scale of operations. The benefits far outweigh the cost of implementing an employee file management system. WeP Solutions Ltd. is the digital solution provider to organizations facing challenges in maintaining their employee records. Its document management solutions come with a gamut of features to streamline its processes, from recruiting and onboarding to audit and compliances. It's time you shift from old conventional methods to business process automation software in an attempt to leap further in your endeavors.

Recent Post