Automation & Digitization For Vendor Management – How Can It Help Your Business?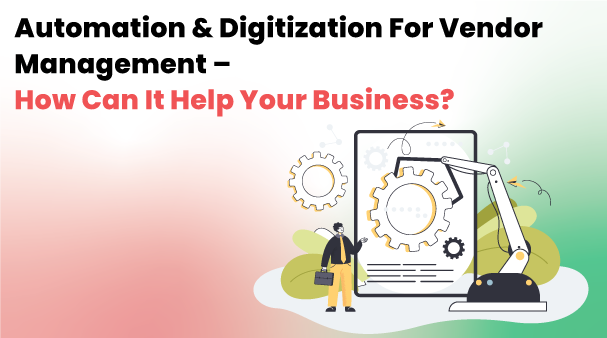 In today's time, when information is abundant, it is not viable for businesses to chase information from vendors by email and phone. Here, the vendor management software comes into play, and a Vendor Management Process Automation lets the industry clients manage their communication with procure-to-pay suppliers better and manage the vendor management operations and improve vendor relationships. Digitising the vendor management system is one of the ways of streamlining the vendor management process.
In this article, we will study how vendor automation and digitisation after vendor onboarding is a good place to start the digitisation of your Business Process Management Software.
1. What Is Digitization Of Business Processes?
Business processes digitisation refers to applying the same online business principles to the current real-life processes. It includes documenting the current processes in a cloud-based platform to perfect the processes by harnessing technology for automating and streamlining those processes.
There are three types of digital business processes to automate, and identifying the process you are digitising or developing makes it easier to integrate the preferred software tool as below:
i. Operational Processes: Activities resulting in a specific product, service, or business methodology
ii. Management Processes: Goal Setting, leading organisation, and executing tasks
iii. Supporting Processes: Processes supporting the core business functions
Determining the ideal outcome before targeting the digitisation process is necessary. Then the steps required to reach that goal, as well as opportunities for digitising and optimising those processes, set the ball rolling.
2. Why do you need to Automate or Digitise Your Vendor Management Process?
Incorporating automation and digitisation is one of the best ways of eliminating the challenges faced by vendor management. It is required for the vendor management process for achieving the following benefits in business:
➢ Enhancing Data Visibility
A centralised data storage solution makes it easier to track the files when needed while working with multiple vendors. With improved spending visibility, it becomes easier to discover cost-saving insights.
➢ Expediting the Approval Process
Automation allows approving purchase orders rapidly, making vendor onboarding easier.
➢ Improving Business Productivity
Automating the vendor management processes gets the workers the time to focus on larger strategic tasks.
3. How To Make Your Processes Digital: Key Steps
Knowing your business also lets you know how you can convert the digital processes best and is done using the following ways:
i. End State Determination
List down what your ideal business looks like. Once the business outcomes are documented, you can examine the steps it takes to reach there.
ii. User First
Determining the ideal user experience that you would create, document, and work on building the processes.
iii. Beginning New Processes
Determine how you will bring upon the new processes and how to integrate them into your business.
iv. Documenting the Processes Online
Digital processes do not work until documented across the business. Document every process, and host it in the cloud to access them.
v. Beta Testing
The impact of digital initiatives can be best understood after they have been rolled out in a controlled environment. Small-scale changes implementation minimises risk, and the relations with the external stakeholder remain unaffected.
vi. Hiring the Right Team
Look for the talent that can address the new skill sets to build the needed technology components to reuse across processes and maximise the economies.
vii. Making a Fast Move
End-to-end process digitisation delivers improved performance in a lesser time. It can be tough to move the systems integration quickly, but the risks of delay can be mitigated.
4. Advantages of Digitising and Automating Vendor Management
Most organisations find managing vendor management difficult as it includes several processes such as managing documents, creating contracts, and managing payments. A digital transformation in place for vendor management process helps in these processes such as spending on digital vendor management system and gain the following advantages:
➢ Enhancing Documentation
Industries find it difficult to maintain high volumes of documents physically. To avoid it, they need to digitise them in a single place to make the data monitoring easier and retrieve them with their name, time, and contract cost. A digital payment process in the vendor management system helps in controlling the transactions, creating bills and performing payments swiftly.
➢ Improving Vendor Relationship
Digitisation of the vendor management system lets you create better opportunities for engaging multiple vendors and maintaining long-term vendor relationships. The digital era lets organisations maintain business with multiple vendors and improve their accountability and business opportunities.
➢ Maintaining Contracts
Organisations need to maintain several contract documents between their vendors by centralising the document data in one place by the digital vendor management system and creating transparency between the vendor and organisation.
➢ Reducing Risks
Industries often face supplier risks such as unpredicted expenses, risks in compliance, and operational inefficiencies. You need to improve the visibility of their performances to reduce these risks. A digital vendor management system lets you track the certifications and finances that reduce the risks in advance.
➢ Vendor Onboarding Simplification
The digital vendor management process reduces the onboarding period and cost. Organisations can maintain data such as bank account numbers and regulatory data for a swift onboarding process and help the industries to choose the right vendor as per their needs.
5. WeP Automation & Digitisation for Vendor Management - How Can it Help Enterprises?
WeP Solutions is one of those companies that has eliminated all the friction sources in the procurement process, right from order placement to payment management for the enterprises.
Here is how its enterprise management system is beneficial for the enterprises:
➢ Automates customer service processes
➢ Data focused and controls the complex business operations
➢ Improves effectiveness of the business
➢ Improves performance visibility
➢ Improves record-keeping and compliance
➢ Makes business planning easier
➢ Offer real-time business data access
➢ Offers business productivity and flexibility
➢ Safeguards customer data
➢ Standardizes critical business processes
For more info about our offerings, visit https://wepdigital.com/. To request a demo of our procurement to pay solutions, click here!
Conclusion:
Automation and digitisation of your vendor management process can be beneficial for your organisation in terms of offering enterprise digital transformation services. An efficient vendor management process brings instant communication between the people.
With this article, we have tried to cover the entire vendor management process in terms of how its automation and digitisation can benefit your business and how WeP solutions is one of the best vendor management solutions.
Recent Post