Artificial Intelligence in procure to pay process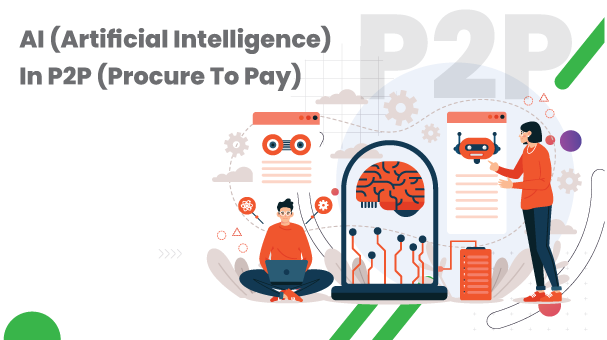 As the Covid-19 pandemic changed the business landscape, companies accelerated their digital transformations for a new normal world. In their efforts to limit business disruptions and maintain a healthy cash flow, companies are optimizing and streamlining procure-to-pay processes with the application of modern technologies such as Artificial Intelligence.
In an uncertain economic environment, the procure to pay (P2P) cycle has become critical especially for the manufacturing companies whose final product involves value addition to the raw materials through a series of processes. Even for other companies, the procure-to-pay (P2P) process has become strategic in their cost optimization efforts.
First level of IT-enabled process transformation: Procure to Pay software solution
The first level of automation in procure-to-pay processes involved companies replacing manual efforts with procure-to-pay software solutions. The solutions are referred to by multiple names such as procurement management software, digital procurement software, e-procurement software, and vendor management system. Though there are multiple names, all solutions help companies to manage the complete procurement value chain from purchasing to supplier payments.

The first level of IT-enabled P2P process transformation helped companies to streamline procurement operations and increase efficiency. The procure-to-pay software is useful not only to procurement professionals but also to finance and account personnel.
Even as the software automated the P2P process, it continued to be plagued with challenges such as inaccurate product categorization, invisible costs, approval delays, lack of management visibility into cash flow, and inventory pileup.
The procurement software also led to an increase in the volume of data generated which further increased with the advent of the internet. The advancement of innovative technologies such as Artificial Intelligence is helping companies utilize data to derive insights that are being leveraged to address P2P process challenges.
Second level of IT-enabled process transformation: Artificial Intelligence application in procure to pay process
Artificial Intelligence improves data processing and analysis capabilities to provide unparalleled insights that enable companies to improve the P2P cycle in the following ways.
Better invoice exception handling
Invoice exception management takes significant time of the sourcing team. These exceptions can arise due to missing or mismatched purchase orders (PO) from invoices. One of the components of the Artificial Intelligence system, the Machine learning (ML) algorithm helps to determine and predict PO by analyzing the historical data and PO format. This helps to save executive time by eliminating manual resolution of the invoice exceptions thereby achieving 100% straight-through processing.
Efficient invoice processing prevents supply chain disruption
The efficient invoice processing ensures that suppliers are paid on time which enables them to manage their own finances effectively. This helps to prevent supply chain disruption due to delayed or missed payments.
The fast invoice processing cycle times and timely payment further reduces the manual efforts of responding to supplier emails or calls. This helps procurement professionals to devote their time and efforts to value-added tasks such as cash flow analysis and improving operational effectiveness.
ML algorithm leverages historical data to identify cost-saving opportunities in the form of bulk order discounts that organizations can gain from suppliers. The algorithm informs the procurement executives about the likelihood of the same item being ordered from a particular supplier in the near future. This will prevent multiple PO's for one item and enables the company to avail discounts along with savings on transportation and logistics costs.
With inherent data analysis capabilities, AI also provides greater visibility into cash flows management.
Automatic Fraud detection
ML algorithm helps to identify the patterns in invoice payment which enables it to raise a flag in the event of an inflated invoice being raised by a supplier. Thus, a company getting defrauded is prevented with timely detection of anomalies. Similarly, the ML also helps to identify unrecognized products or services billed in an invoice or flag inaccurate rates.
This also helps procurement professionals to ensure compliance with regulations and reduces their manual efforts in ensuring the organization is not in breach of any statutory rules.
Derive high value from improved expense management
In an uncertain economic environment, there is a constant demand for cost reduction which is putting pressure on procurement and finance professionals to derive more value. The professionals are resorting to innovative technologies to reduce expenses.
AI techniques help to create a spend classification algorithm that analyses line-item details for better correlation with spend categories. This improves spend analysis capabilities and helps in identifying non-essential or wasteful expenses that can be eliminated. Thus AI helps the procurement team in tracking and managing expenses more accurately.
Service chatbots to answer supplier queries
A service chatbot is a bot that uses artificial intelligence (AI) and machine learning to answer the basic queries of the target audience. AI chatbots help address queries 24/7 without any human interventions. AI chatbots are widely available and can be used across multiple processes including procure to pay.
P2P processes can use AI chatbots to answer supplier queries who will be happy to get quick responses at any time of the day. It can also be used to answer basic queries of internal audiences from the organization.
AI chatbots provide a treasure trove of data that can help to identify any deficiencies in existing processes.
Supervised machine learning algorithms leverage past corrections and user-made validations and apply them for future self-validations. This helps to prevent approval delays by intelligent approvals contributing to overall process improvement.
Conclusion
As the digitization of business becomes imperative after Covid-19, the Pay to Procure process also needs to leverage Artificial Intelligence to derive operational and business benefits. Artificial Intelligence offers significant benefits and the value will increase over time as more data becomes available leading to better ML algorithms.
This is the most appropriate time to start the digital transformation of the P2P process. If you need additional information on the application of artificial intelligence and machine learning in the P2P process, you can contact us.
Recent Post