6 Tips for HR Managers To Organize Employee Documentation
27 Jun, 2022 Siddarth Nandakumar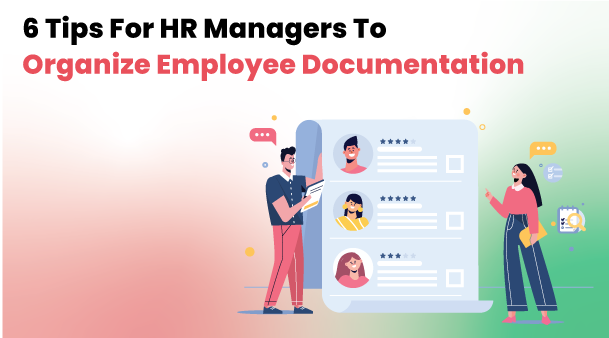 HR document management
Human resource staff are some of the most important staff in an organisation as they deal with people working in the rest of the organisation. Alongside that, HR managers are responsible for managing and organising all the documentation with respect to employees. Organising employee documentation can be a challenge for HR managers, especially if the organisation is exorbitant, hiring hundreds of employees.
While many HRs still resort to creating folders and PDFs and organising employee files using physical documents for handling employee databases, is it the right approach in today's time? What if the human resource files get corrupted? Recollecting employee details can be a cumbersome process. The solution lies in HR document management software. Let's get detailed insights into the HR document management software.
Benefits of HR document management software
Following are the key benefits of document management software for HR:
Process automation

for management of documents

Increases efficiency

Reduction in costs

Document protection

Get documents anytime, anywhere

Performance tracking
6 tips for HR managers to organise employee documents
Following are the 6 tips for HR managers to organise documents:
● Security of documents is paramount: The management of documents is not only limited to employee details. HR also needs to manage various contracts, dismissals, job offers etc., including many confidential details. Also, the documents and details are susceptible to unauthorised access and alteration. Even the government is emphasising the importance of confidentiality of the information and data protection. This raises the importance of document management software. It prevents the data from unauthorised access, data loss, data theft and modification. They are also capable of providing an audit trail indicating who has accessed the details and for what purpose.
● Reduce cost by increasing efficiency: HRs are often occupied with mundane tasks of handling paperwork and documents. This reduces productivity and leads to a loss of time and resources. Automating such mundane tasks can streamline the document management process. This will reduce the staff required for such administrative tasks. They can then be used for productive purposes.
● Focus on reducing errors: Manually handling the documentation can lead to the potential loss of documents. Further human intervention increases the chances of errors in handling the documents and database of employees. With the automation of record management, one can simply store all the databases on the record management software leading to a reduction in human intervention and an increase in efficiency.
● Determine which documents need to be stored and for what period: HR Managers are required to handle a bulk of documents. Therefore, it's important to determine which documents are relevant and shall be stored and which documents should be disposed of. Further, not all documents can be stored for an indefinite period. HR managers also need to determine the period for which documents are required to be stored. For instance, certain documents are needed to be stored for several years owing to legal requirements.
● Update the records: Documents can become obsolete owing to changes in the particulars. Any changes in particulars need to be updated in the database to maintain up-to-date records. Therefore, HRs have to ensure that the changes are communicated to them and are carried out by them. Further, outdated human resource files and documents need to be removed or deleted. This is easy to do through record management systems. HRs can also develop a schedule for updating the records of the documents.
● Create backups: Data loss can happen anytime. Further, your data is always prone to attacks and malware. Therefore, it is extremely important to have a backup of the data and records. An HR document management system allows you to backup your dataset on a regular basis. Further, if hard copies are needed, you can always keep a scanned or photocopy of the record in a separate cabinet.
WeP Employee Record Management System
WeP Digital provides a complete employee record management system that provides employees with the following features:
Self-service functionality

Social feeds for networking

Detailed personal profile of employees

Storage of electronic documents and signature

Cloud storage of data makes the chance of losing data minimal

Smart mobile and email alerts

Calendar sync

Bulk upload of the dataset

Store several personnel records in different locations without redundancy
With the WeP Digital employee dataset management system, you can handle all your data conveniently and efficiently. It functions not only as a record management system but also possesses the capability to function as an employee performance evaluation system. Some of its key functions include:
Performance evaluation:

Employers can track the performance of their employees through comprehensive record management that also serves as evidence for promotion or termination of employees.

Pay revisions:

Organisations periodically analyse and revise their employees' pay, and it is one of the most critical factors for employee retention in the organisation. Proper maintenance of records can provide insights into the performance of employees and support necessary pay revisions. This is important for both the organisation and employee satisfaction.

Developing plans of action:

Using the WeP Digital employee record management system, organisations can establish plans of action to enhance employee performance. Further, their progress can be easily tracked.

Pattern analysis:

Pattern analysis allows organisations to track the performance pattern and determine whether a particular employee is fit for the role delegated to him. It also helps organisations determine whether a particular role has too many or too few staff.
A comprehensive employee record management system can simplify most of HR's work manifold. It further helps enhance the performance of the employees, especially when they are appropriately rewarded for their efforts and loyalty.
Are you still stuck with a conventional employee database management system? If yes, then it's time to shift to a new way of managing your employees through HR automation. Book your free demo today!
Recent Post