5 Reasons You Need a Secure Printing Solution for Your Law Firm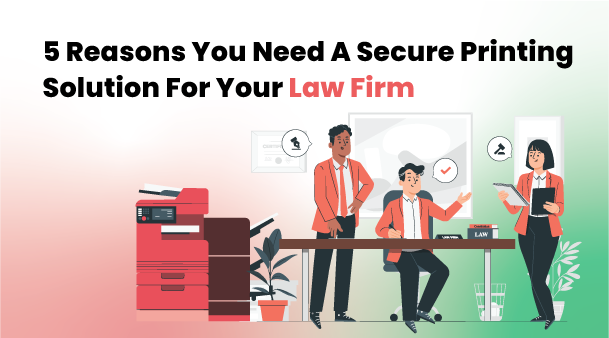 Law firms, by the very nature of their job, are required to handle a lot of sensitive and confidential information. The information could pertain to tax details, records of depositions, background check reports, financial data, medical information etc.
Although records of cases and files containing client information must be easily accessible by authorised personnel, access must be barred to others. The law firm is responsible for ensuring the confidentiality and security of its clients' information.
Given these constraints, printing these documents can prove to be risky. The consequences can be severe if unauthorised individuals gain access to these documents.
Table of Contents
- An introduction to the security threats your law firm faces when printing- What is a secure printing solution for lawyers?
- Why do law firms need secured printing?
- What are the different types of printer security?
- Six reasons a secure printing solution is important for a law firm
- Conclusion
Brand Snippet
Managed print services provided by WeP Solutions will help manage all your printing needs securely. Free from your printing worries, you can focus on growing your practice and save on Capex and operational costs. Contact us to learn more.
An introduction to the security threats your law firm faces when printing
Law firms hold sensitive data and confidential information, which makes them a natural target for cyber attacks.
Most printers function as networked devices. As a result, printer security becomes a vital consideration. With printers as networked devices, they become a vulnerable entry point for hackers. Confidential client data becomes vulnerable to data theft. The security threats that law firms can face through the use of printers include:
Phishing attacks. This is one of the chief cyber threats that law firms face. A hacker can gain access to data by impersonating the client's login. You can guard against this by using secure passwords and multiple levels of authentication.
Ransomware. Ransomware may get installed through one of the networked devices when you click on a malicious link. The ransomware then gains access to the data.
High-quality anti-virus software is suitable protection against ransomware.
Data leak. Data leaks can occur through the intentional or accidental transmission of confidential information. Strong security policies and robust security tools can prevent this situation.
DDoS attack. A Distributed Denial of Service (DDoS) attack interrupts data flow in the targeted network. This can bring work to a halt. Protective means include firewalls and intrusion prevention systems.
What is a secure printing solution for lawyers?
Businesses, including law firms, around the globe spend enormous amounts on the security of their data centers and email systems. However, most do not pay the same attention to securing their printing with managed print services.

A secure printing solution can be implemented at a law firm through:
Basic secure printing. In this mode, the job to be printed sits on the server. The end user arrives at the printer and keys in the required PIN. Inputting the PIN initiates the printing action. With such on-demand printing, the printed confidential information does not remain in the tray.
Follow-me printing. It is also known as the 'print-to-me' functionality. Here, all printers of the law firm's network are connected to the same server (physical or cloud) for print jobs. Authorised users can access the printed document on any device by entering a PIN or swiping a card. This can also be enabled directly through an app on a smartphone.
With either of the above secure printing solutions, you can have greater control over printed documents. However, it is essential that the staff in the law firm is trained and adheres to the security policies.
Why do law firms need secured printing?
As discussed above, law firms deal with sensitive and confidential client data. Law firms cannot have a situation where an unauthorised person sees a printed document in the output tray of a printer.
Data security concerns can be addressed with secured printing software. These printing management software solutions ensure that only authorised staff access confidential information. Clients need to trust their lawyers and law firms with confidential information. Enterprise print management solutions help in the practical implementation of data protection.
What are the different types of printer security?
Printer security can be ensured through a combination of physical, network and surplus security strategies.
Physical security is ensured through disk encryption, automatic disk wiping and automatic log wiping.
Network security is achieved with encryption and password for the web interface and by installing a firewall.
Surplus strategies include clearing all logs and data, resetting settings, and initiating secure wiping.
Six reasons a secure printing solution is important for a law firm
A printer is a critical productivity-enhancing tool in any organisation, even more so in a law firm. Keeping the printer protected through a secure print management solution is critical for productivity and information security. A secure printing solution becomes important for a law firm for the following reasons:
Data protection
Investing in document management and network security helps protect data. Ignoring printer security makes the network vulnerable to data theft. Printer security with physical restriction to printer access and enabling auto-deletion of print jobs on the device helps protect vital data.
Reduces exposure to malware
Although data are not stored on the printers, the printers themselves are connected to the computers. Unsecured printers can be used as an entry point for launching malware and infecting the entire network. Securing a printer with a security solution prevents malware from gaining access.
Oversight on printing
Secured printing helps exercise oversight on the volume of printing in the law firm. Print tracking allows one to monitor what is being printed and by whom. This aids protection from unauthorised access to data.
Lowers downtime
When control is exercised on what is being printed, the printing of personal documents reduces. With reduced printing load, printers experience lower downtime, which enables enhanced productivity.
Access to modern printers
Evolving technologies spur the development of printers with a host of capabilities and security features. Printer management services enable the integration of modern printers into the existing network and other legacy hardware. This facilitates access to the latest technology without having to spend on large-scale replacement of existing hardware.
Embeds culture of security
When employees realize that a secure printing solution has been installed, their appreciation of data security policies increases. This promotes greater adherence to the policies, thereby improving data security.
Whatever your requirements for a secure printing solution, WeP Solutions can help! Contact us here.
Conclusion
Many law firms have fast-growing printing requirements. With a secured printing solution, you can connect your printers to your network and have the assurance that your documents will be printed and distributed securely.
Recent Post